As seen on the CBS Morning Show and Conde Nast Traveller
Treehouses That Take You On An Adventure
Purposely Lost's Littlefield Retreat, in Springvale, is Maine's first and only luxurious, eco-friendly, carbon neutral, tree house and hobbit home retreat. Located minutes from the I-95 corridor, yet nestled in 15 acres of private, pristine Maine forest on a trout pond, Purposely Lost is an easily accessed escape from the city that feels worlds away. Take the chance to power down the screens and break away from the daily demands of your personal and professional life with a rustic yet modern getaway. We have created the perfect sanctuary for you to do just that with all the comforts of home. Purposely Lost is where the seclusion of a Maine "camp" meets state-of-the-art amenities and world-class craftsmanship.
Read more
Soak in a private hot tub under the stars, canoe on Littlefield Pond, fish from your private dock, fry up your catch in the full kitchen, and host a game night by the woodstove. Or take a short drive to enjoy some of Maine's best local restaurants, take the family apple-picking, or go beachcombing along Maine's famously rugged coast. Join us for an unforgettable experience of serenity, relaxation, and connection to yourself, your loved ones, and the natural world.
Purposely Lost Means Living The Maine Life With A Side Of Whimsy
These days, with remote working and the constant creep of work into our personal lives, the peace and relaxation of vacation time is often an elusive memory. We can't do much about the direction our work culture as a whole is going, but we can escape the demands of our fast-paced professional lives and experience some time "the way life should be."
Maine has been vacationland to generations of New Englanders, Americans, and the world for a reason: life is different here. Enjoy the slower pace that long winters and gentle summers have nurtured for generations. Here you can visit warm beaches gently cooled by ocean breezes, the tail end of the Appalachian trail, deep forests, and clean waters.
Read more
Purposely Lost is a bold reflection of these very Maine values and opportunities.  It is a synthesis of the best elements of Maine's lodgings. It's one part cabin in the woods, one part the conveniences of a modern hotel, one part the whimsical joy of treehouses, one part showcase for environmentally sustainable housing, and one part the clean aesthetics of the modern urban designs of Portland.  The result of this careful mixture is a taste of "the Maine Life," a relaxing experience that you won't forget and you won't be able to stop talking about upon your return.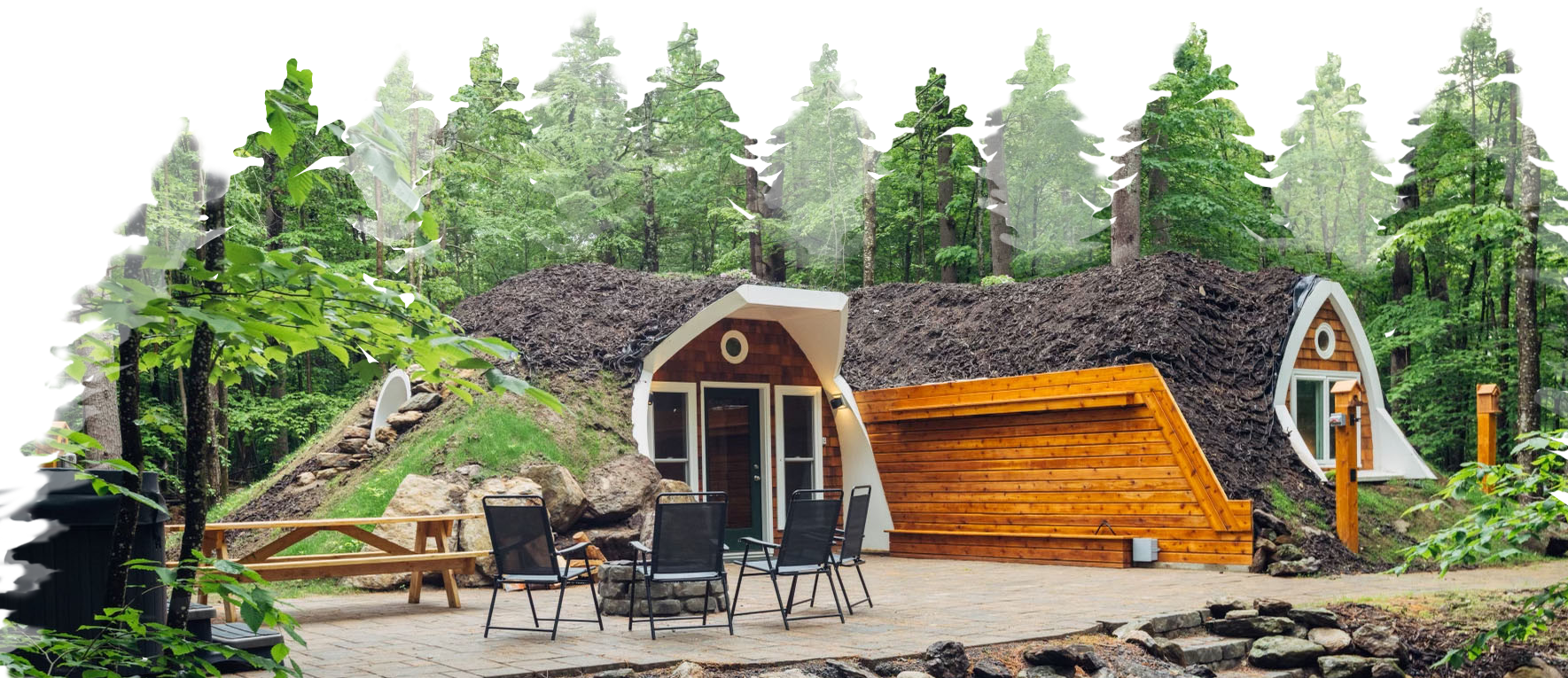 Built For Sustainability, Experienced As Pure Luxury
At the heart of Purposely Lost is a commitment to environmental friendliness and sustainability. From the ground up, every element has been carefully considered for our structures and our grounds. We've developed just 3% of our acreage, minimizing our impact and maximizing the wildlife habitat available, creating a sanctuary for the many birds and mammals who were here before us. We don't waste water on lawns. we don't cut down trees we don't have to, and when we do cut down trees, we use them locally.
Read more
Our rentable Maine treehouses have double-wall insulation that keeps out the humid heat of summer and the dry cold of winter.  With the addition of ultra-efficient heat pumps that produce four times more cooling and heating than alternatives, your comfort requires only the barest energy to assure.  All of our appliances are powered electrically, and that electricity comes from solar panels, not burning coal or other dirty energy sources. We even built our solar panels off-site in an already-cleared area to minimize the impact on our local ecosystem.
Even with all this efficiency and ecological consideration, our treehouses are luxurious.  With a focus on experiences over distractions, each treehouse has a small, but complete kitchen, a hot tub, a high-tech energy-efficient projector system for entertainment, and wifi-should you want to stay connected to the world or stream a movie.  This is the perfect home base for planning your day out in the world, enjoying nature, the great food scene, or our glorious Maine beaches.
What our guests are saying…
We had a wonderful stay at Purposely Lost!  We stayed two nights at the new Fern Hollow Hobbit House.  The house itself is beautiful and so cozy.  The outdoor space is absolutely perfect!  The large front patio with the firepit and private hot tub, overlooking the woods and lake was stunning!  The location is great, close enough to town that you can just pop to the store and back, but far enough out that it feels extremely secluded and private.  You can see two of the treehouses from the Hobbit House, but there's plenty of space and trees in between to not hinder your privacy at all.  We had the best weekend getaway and cannot wait to come back again!  Highly recommend!
- Marybeth S.
My family and I (2 adults and 2 kids) stayed 2 nights in the Canopy Treehouse last month and had a lovely time. The property was in a great location, but hidden just outside. You felt like you were in your own little world. We had tons to do between the treehouse, the hot tub and the pond.
Everything was clean and well maintained. And, I have an eye on that hobbit hole in the future. Thoughtful amenities
- Jason M.
I stayed for 3 days and nights in the Canopy Treehouse. It was awesome! It was very clean and had all the amenities you would need. It was very private, no one around. Great place for relaxation. The pond was gorgeous. I went solo and felt very safe. Management was a phone call away if needed and very responsive. Must go there to experience it. It was a 2 bedroom treehouse but had plenty of space. Did not feel cramped at all. I highly recommend this tree house.  I plan on returning in the future.
- Debbie P.