TREEHOUSE GETAWAYS YOU
NEVER WANT TO GET AWAY FROM
Can you imagine being perched above a pristine pond with a private waterfront and dock, the natural world on full display from your treehouse getaway? We offer a truly complete and modern escape from the ordinary routine of every day, with the comforting technologies that rustic cabins lack and the natural splendor you can rarely find anywhere else. Stay unplugged and fully engaged with a host of fun activities on the water and in the woods.
EXCITING ACTIVITIES ON THE WATER AND IN THE WOODS
Canoeing
We have small vessels available for exploring the water.
Fishing
Our pond is stocked with brook trout, and getting a fishing license is really easy.
Hiking
We have many acres of beautiful woods ready to explore!
Bird Watching
Our wild environment is perfect for birdwatching and seeing wildlife in general. We commonly see loons, ducks, turkeys, red tail hawks, broadwing hawks, pileated woodpeckers, eagles, and an assortment of songbirds.
Swimming & Floating
Our clean, beautiful pond is perfect for swimming, playing, and a leisurely soak or float.
Sunbathing
Warm Maine summers are great for low-energy lounging in the sun for that perfect tan.
Yoga on the Dock
Our small docks are great flat, tranquil spaces that are all yours to enjoy.
Plus you're welcome to bring your own water toys… the possibilities are endless, and it's not just a summer escape…
Maine is well-known for incredible summers, but our winter season is breathtaking in its beauty and a perfect time for some of our favorite snowy activities and winter sports. The only thing more peaceful than a summer escape in the woods is an escape in a winter wonderland. Relax in your warm and cozy treehouse-or bundle up, breathe in the fresh air, and enjoy a wide range of great winter activities.
Ice Fishing
We can provide augers and traps, but you should bring any additional fishing equipment you want to use!
Snowshoeing
We do not provide snowshoes, but the beautiful wild terrain around our treehouses and hobbit holes are a delight to explore year-round.
Cross Country Skiing
We do not provide skis, but the trails we cultivate for summer hikes are great for breaking in a cross country skiing trail as long as there's enough powder.
Ice Skating
Ask us about the thickness of the ice if there are any concerns, but the pond is usually safe for skating in the heart of winter.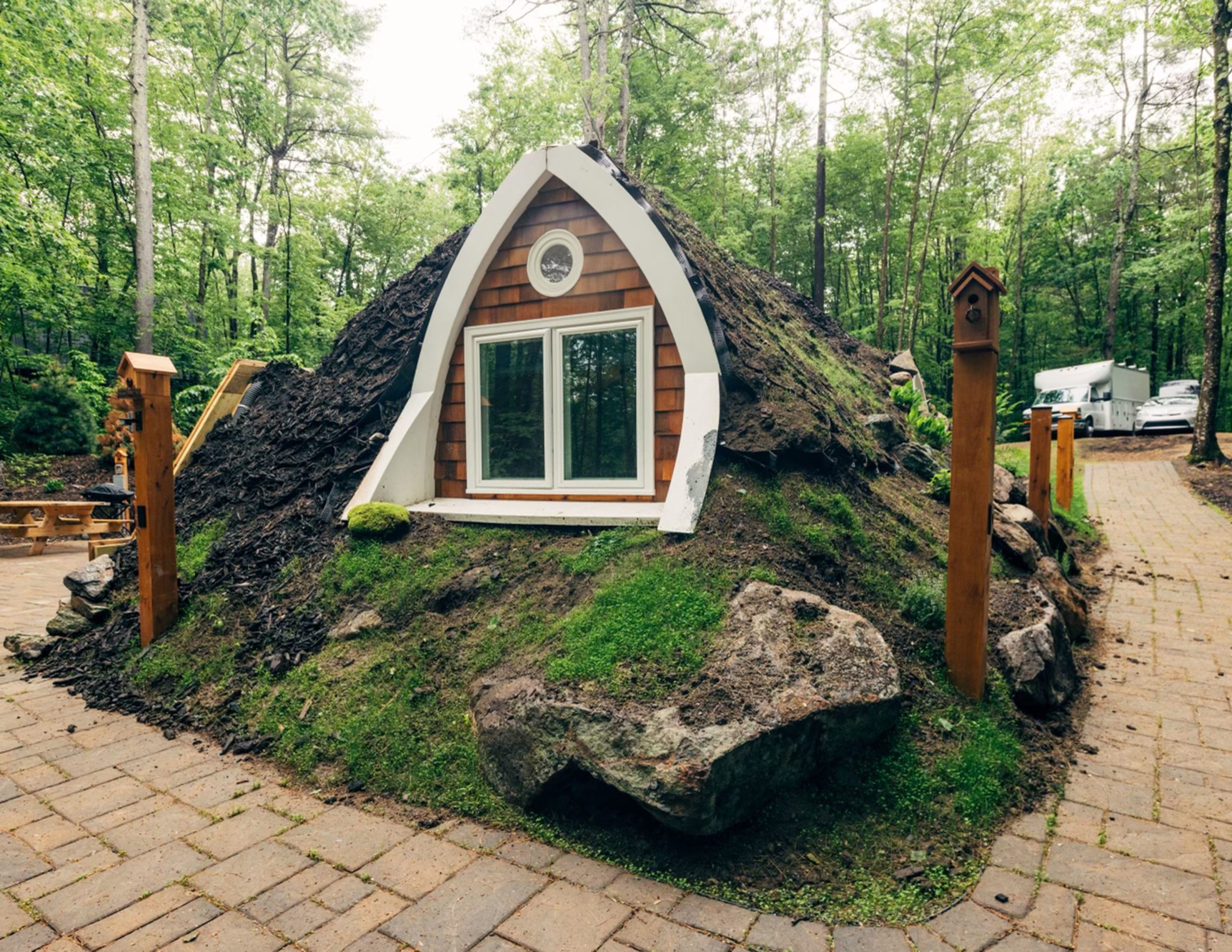 THE FERN HOLLOW HOBBIT HOME
Do you ever long for the simplicity—and magic—of life in the shire? Nestled under a blanket of ferns, this hobbit-style home brings you close to nature but in a refined, modern style. Bright with natural light from a wall of glass, Fern Hollow features a Scandinavian-inspired interior with airy living space, two bedrooms, and a full bath.
The soaring spire of this modern tiny home is a fresh take on the traditional A-frame. Both contemporary and rustic, the Skyframe has an open living room and kitchen, two queen bedrooms, and a shared full bath. We have blurred the line between indoors and outdoors with an entire wall made of glass, numerous windows, and skylights. Your private hot tub has been integrated into a huge, naturally occurring boulder field immediately behind the treehouse, with a firepit nearby.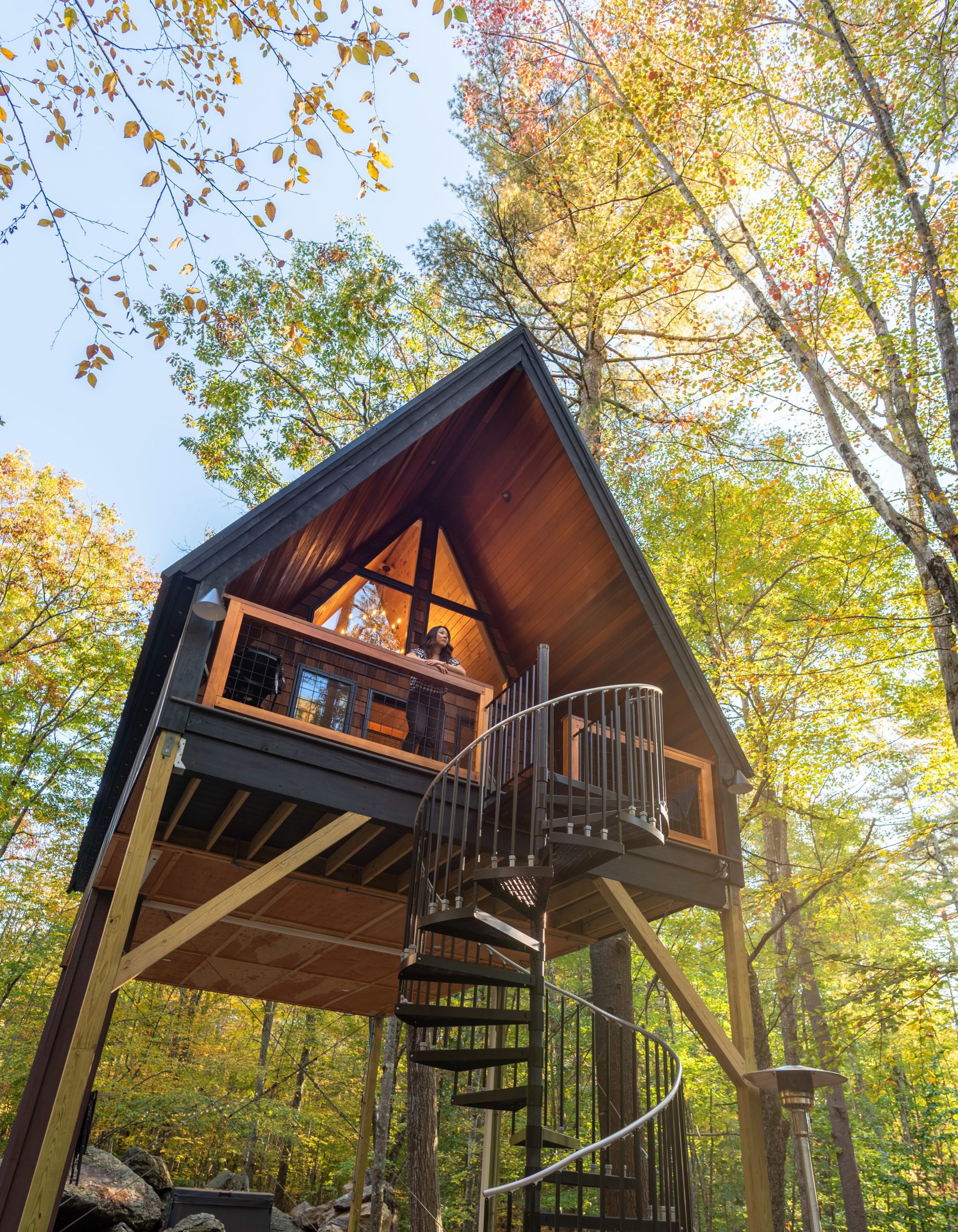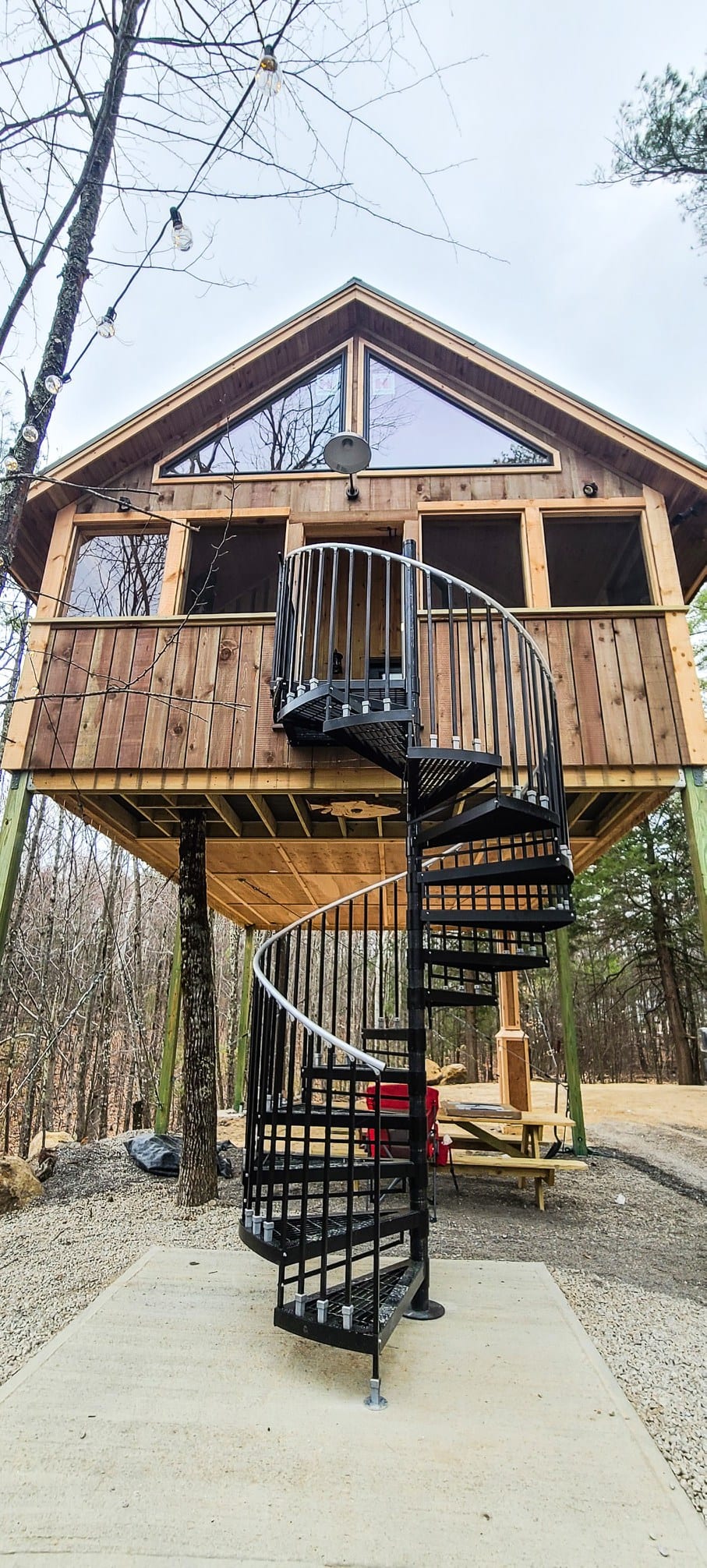 Perched on a cliff above a wooded wetland teeming with wildlife, the Cliff House is an eclectic mix of old and new. Relax outdoors in your fully screened porch, which includes a day bed with a great view, and outdoor dining. The lofted ceilings in both the porch and the treehouse itself make this tiny home feel spacious. It has a full kitchen, a living room with built-in seating, a queen bedroom, a queen loft, and a full bathroom.
Enjoy your tiny home in the trees! Although only 350 square feet, this tiny home has everything you need for a delightful stay. Cook dinner in a full kitchen with a refrigerator, stove, oven, microwave, and coffeemaker. Fully stocked kitchen with dinnerware, silverware, drinkware, wine glasses, cookware, and all of the essential kitchen accessories. Both the loft and the attached sleeping pod are furnished with queen beds. Enjoy your deck with a full grill, a view of the trout pond, and your own private hot tub under the stars.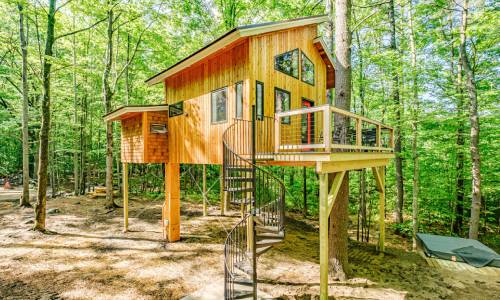 What our guests are saying…
We had a wonderful stay at Purposely Lost!  We stayed two nights at the new Fern Hollow Hobbit House.  The house itself is beautiful and so cozy.  The outdoor space is absolutely perfect!  The large front patio with the firepit and private hot tub, overlooking the woods and lake was stunning!  The location is great, close enough to town that you can just pop to the store and back, but far enough out that it feels extremely secluded and private.  You can see two of the treehouses from the Hobbit House, but there's plenty of space and trees in between to not hinder your privacy at all.  We had the best weekend getaway and cannot wait to come back again!  Highly recommend!
- Marybeth S.
My family and I (2 adults and 2 kids) stayed 2 nights in the Canopy Treehouse last month and had a lovely time. The property was in a great location, but hidden just outside. You felt like you were in your own little world. We had tons to do between the treehouse, the hot tub and the pond.
Everything was clean and well maintained. And, I have an eye on that hobbit hole in the future. Thoughtful amenities
- Jason M.
I stayed for 3 days and nights in the Canopy Treehouse. It was awesome! It was very clean and had all the amenities you would need. It was very private, no one around. Great place for relaxation. The pond was gorgeous. I went solo and felt very safe. Management was a phone call away if needed and very responsive. Must go there to experience it. It was a 2 bedroom treehouse but had plenty of space. Did not feel cramped at all. I highly recommend this tree house.  I plan on returning in the future.
- Debbie P.