The Shire tiny house is inspired by the snug, charming homes of the legendary heroes—adventurers small of stature but great of heart. Every detail, from the custom-built hearth to the arched doorways and vaulted ceilings, has been lovingly created to invoke the beauty and magic of storybook realms.
Nestled among wooded knolls by a pristine lake, the Shire is built on a single level, with easy access to your stone patio, "enchanted" fire ring, hot tub, and private dock. Like Purposely Lost's celebrated treehouses, this hobbit home features sustainable comfort and convenience: two queen bedrooms, a full bath and kitchen, and energy-efficient construction throughout.
Take a pause from the bustle and pressures of your daily quests in the real world. Come to the peace and beauty of The Shire and give free rein to your imagination.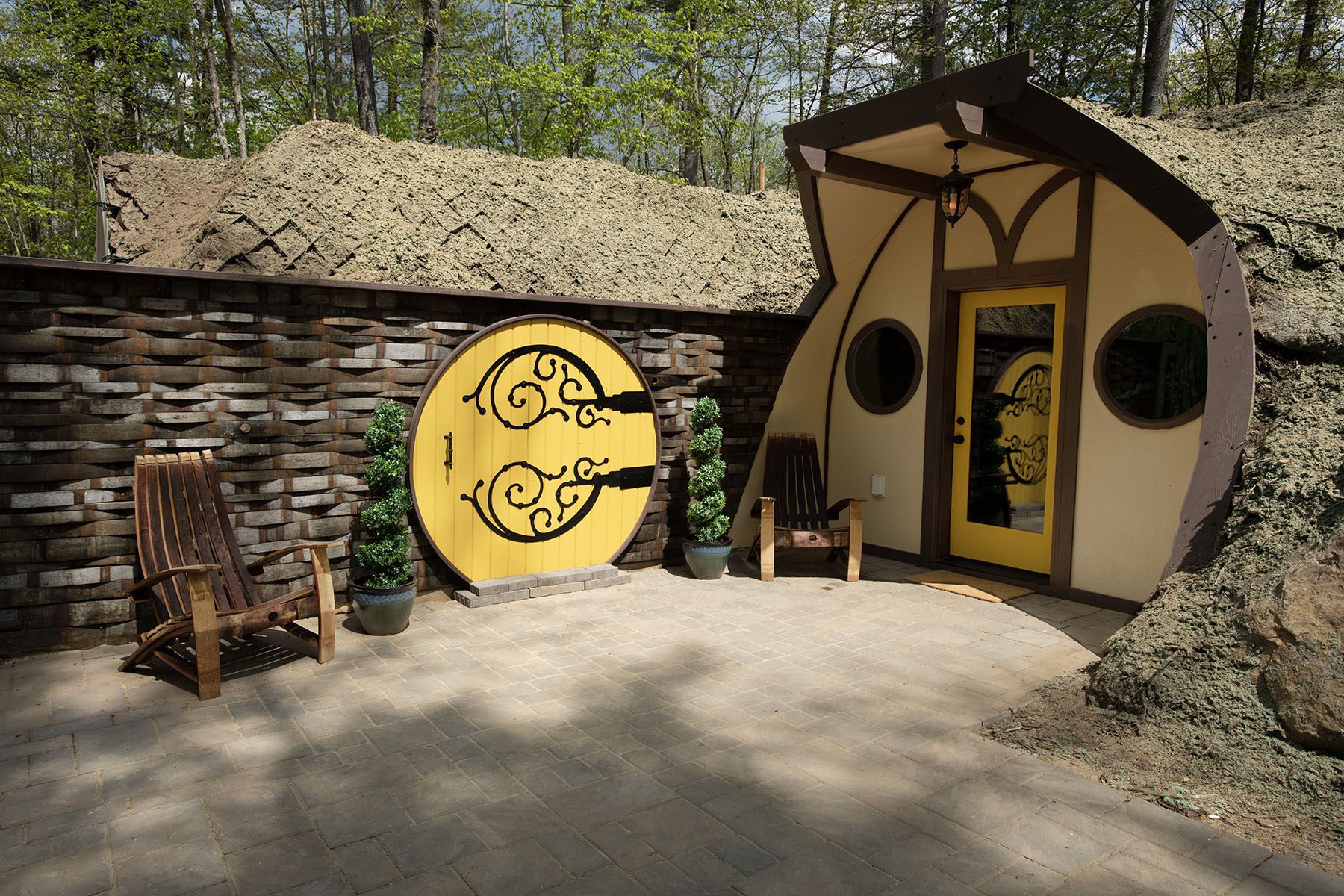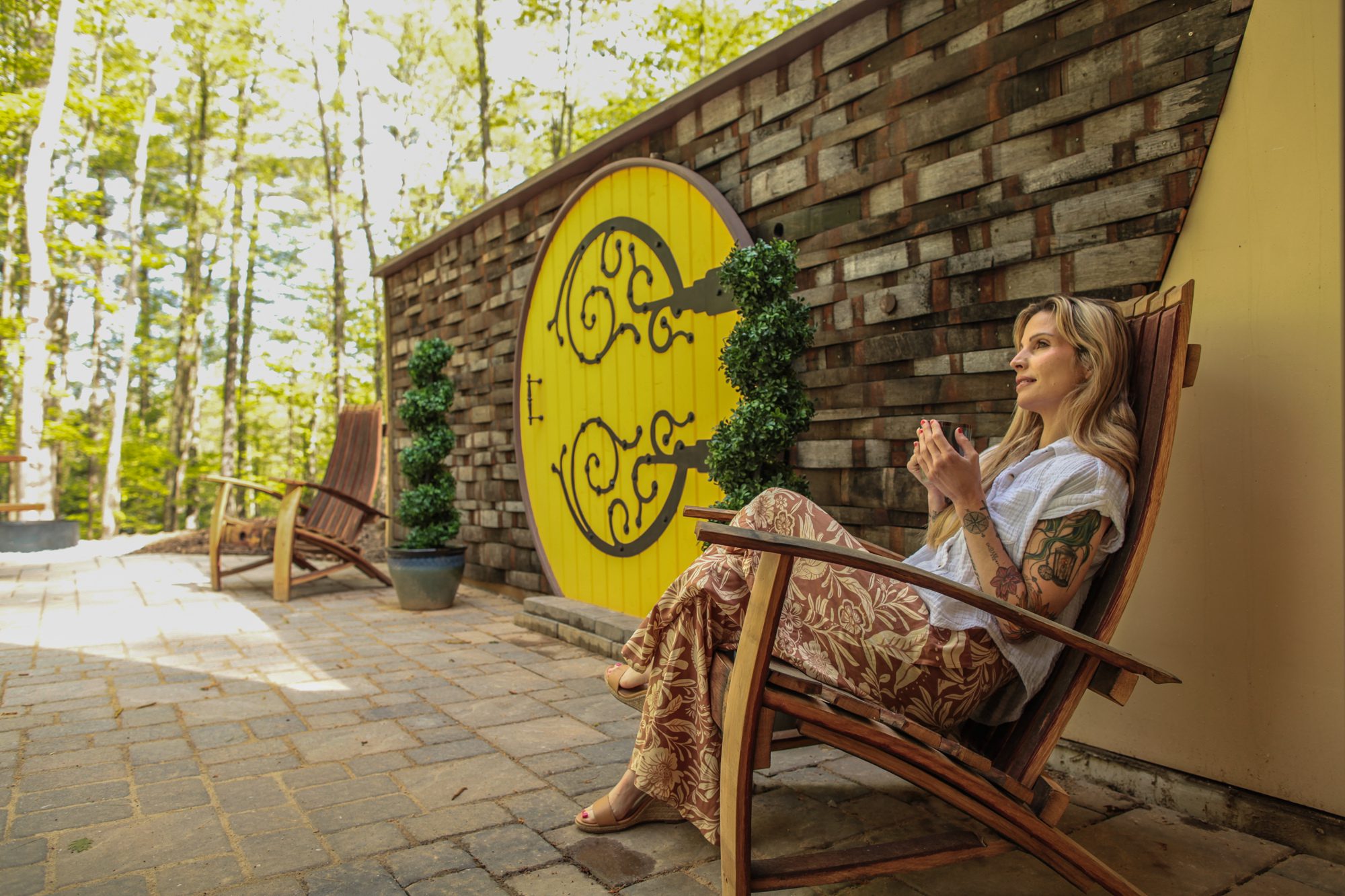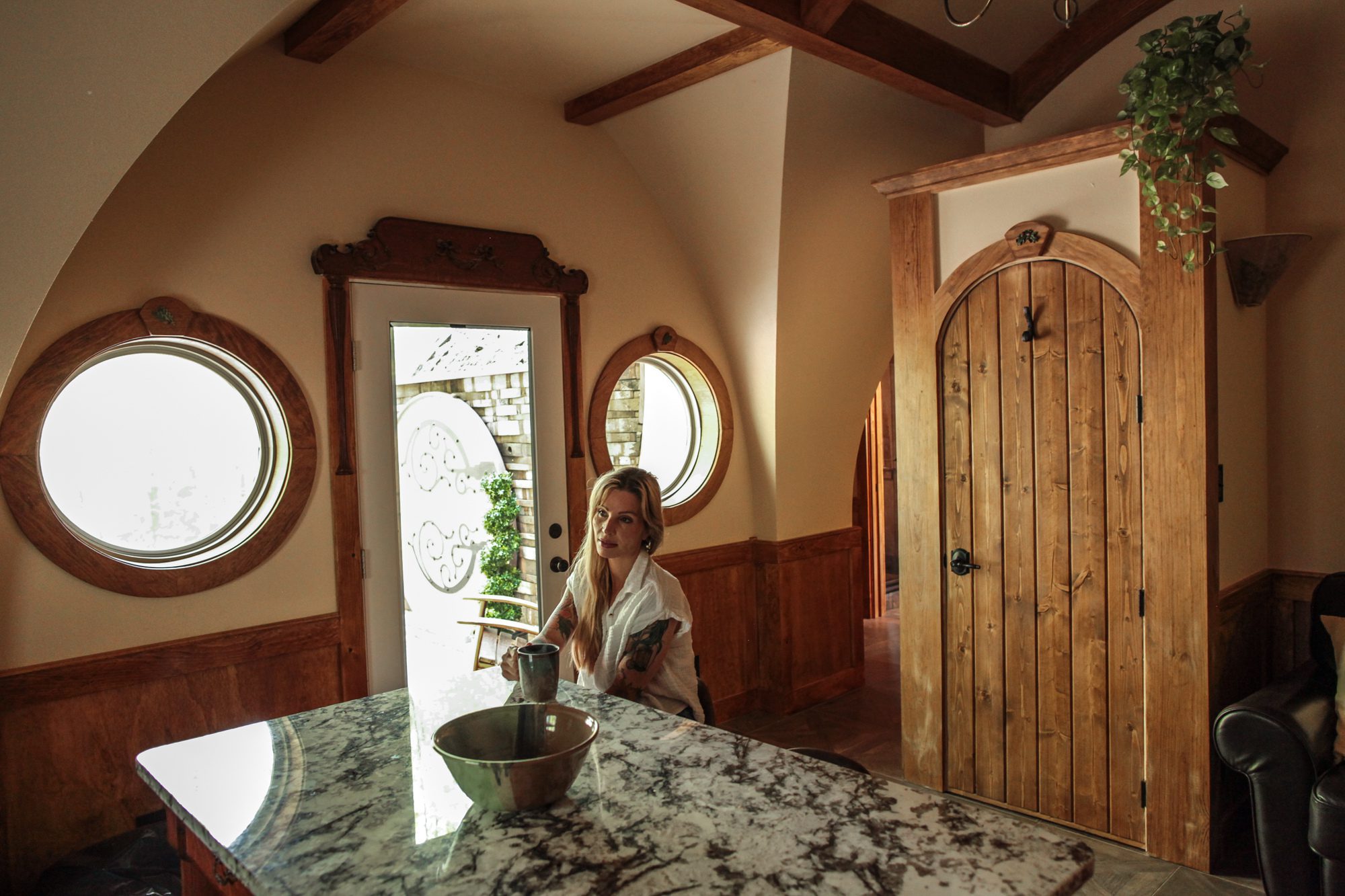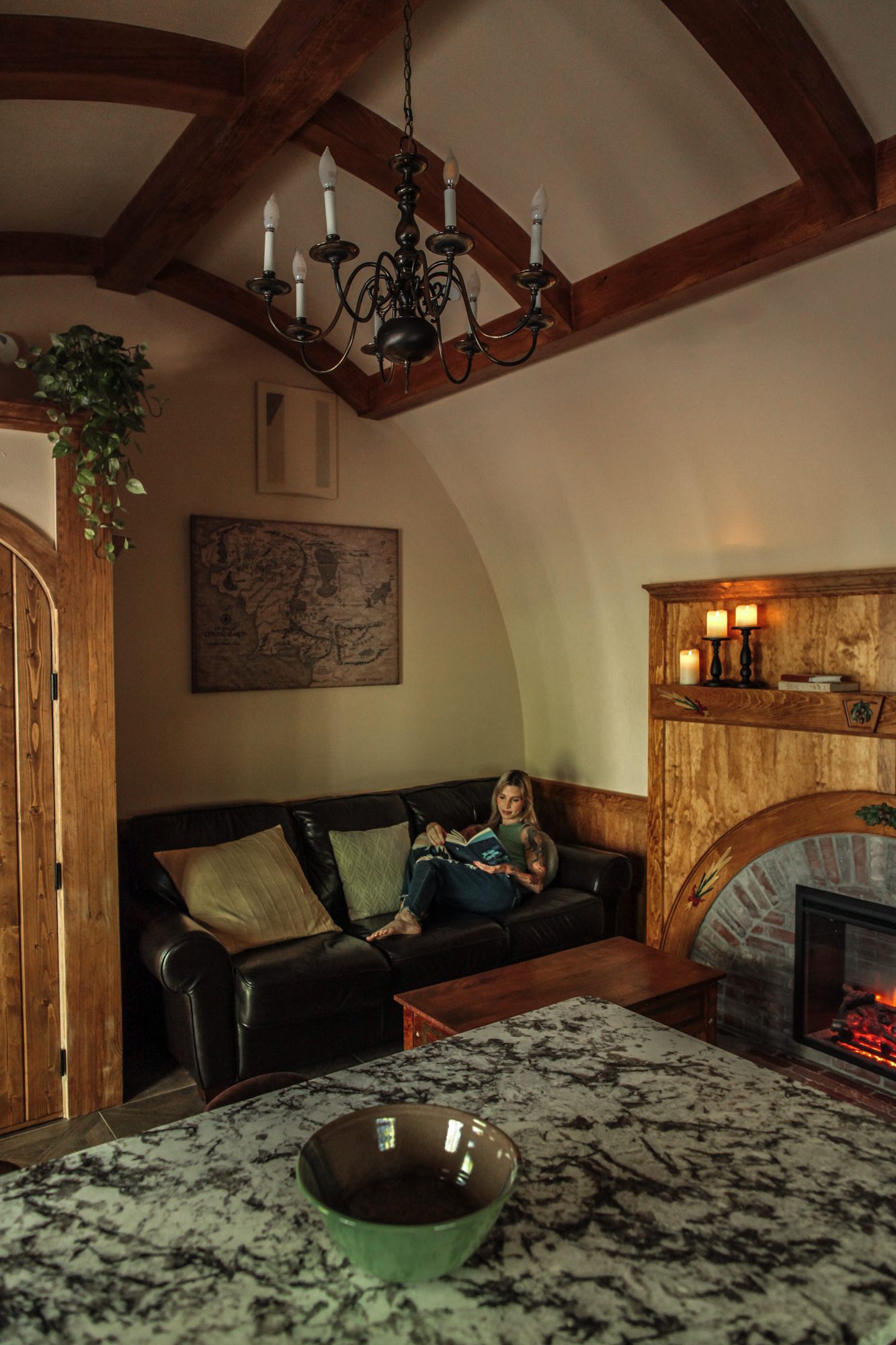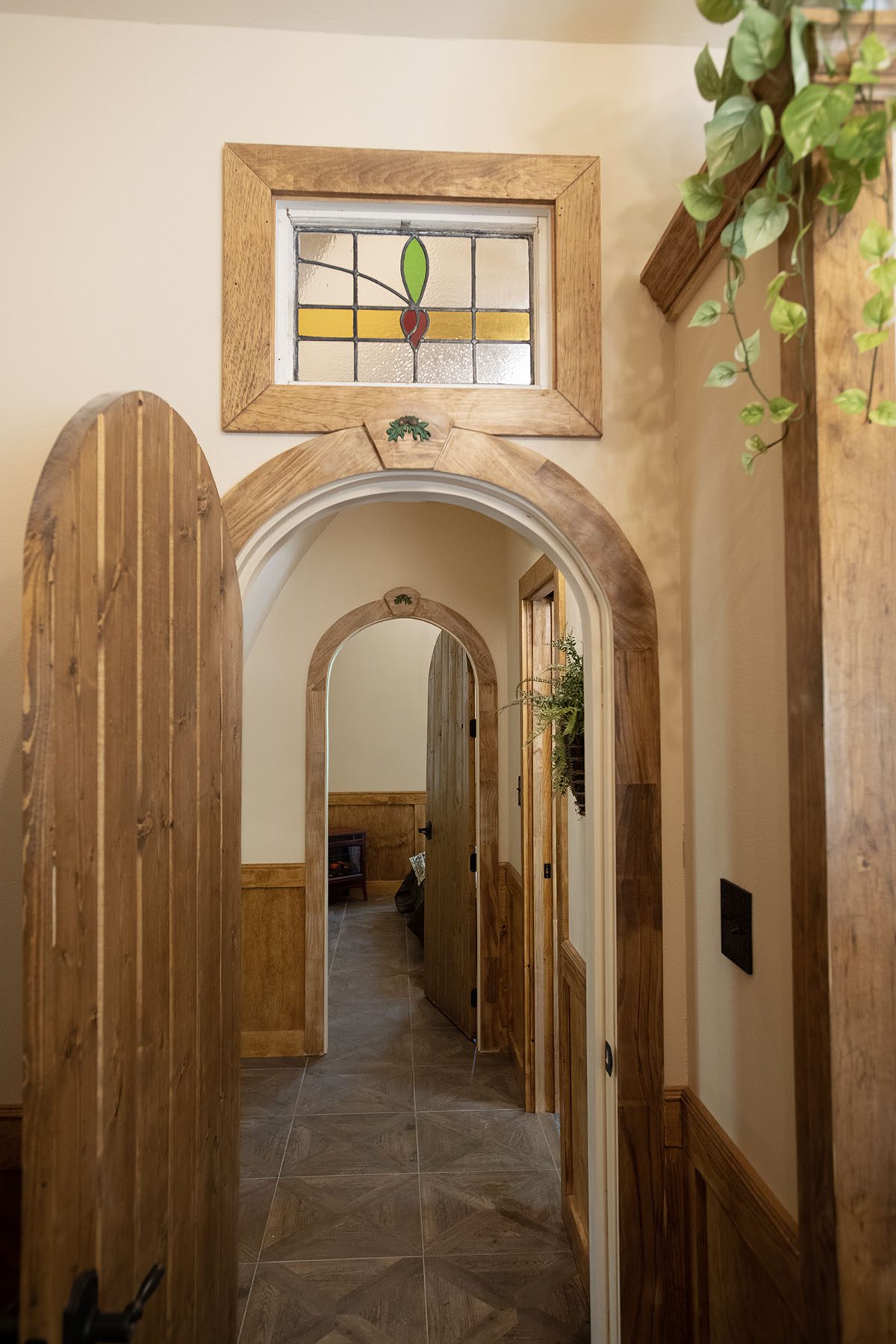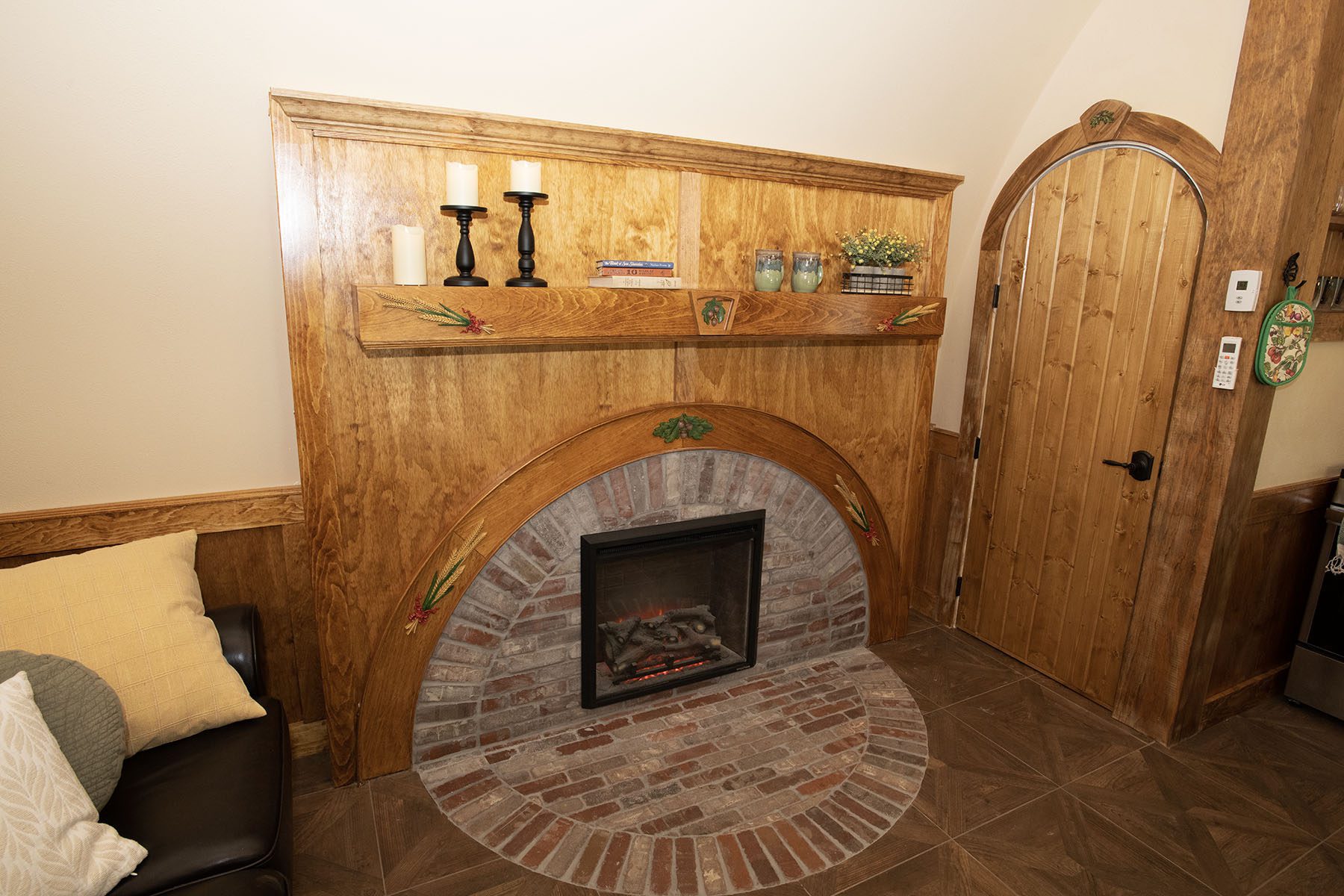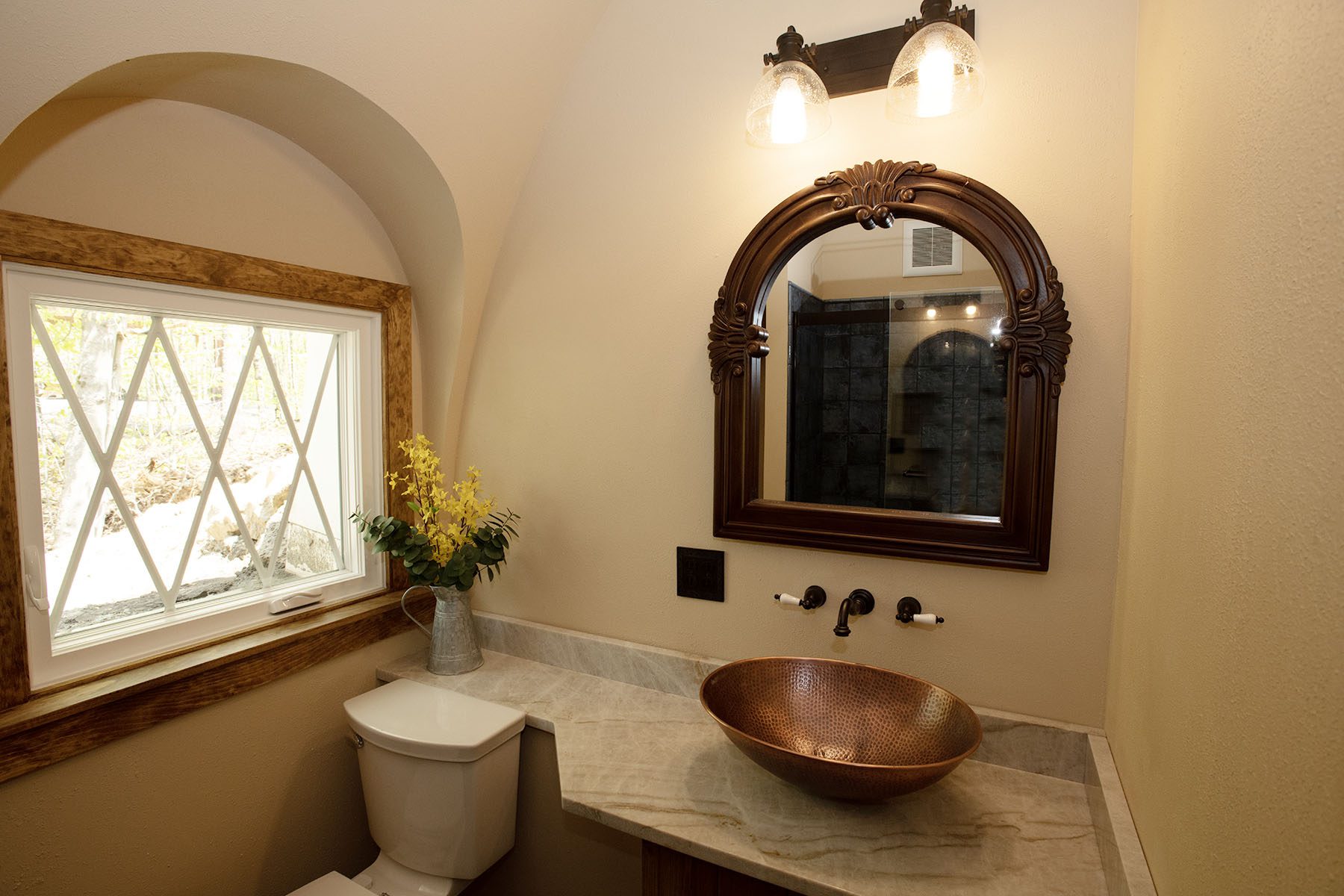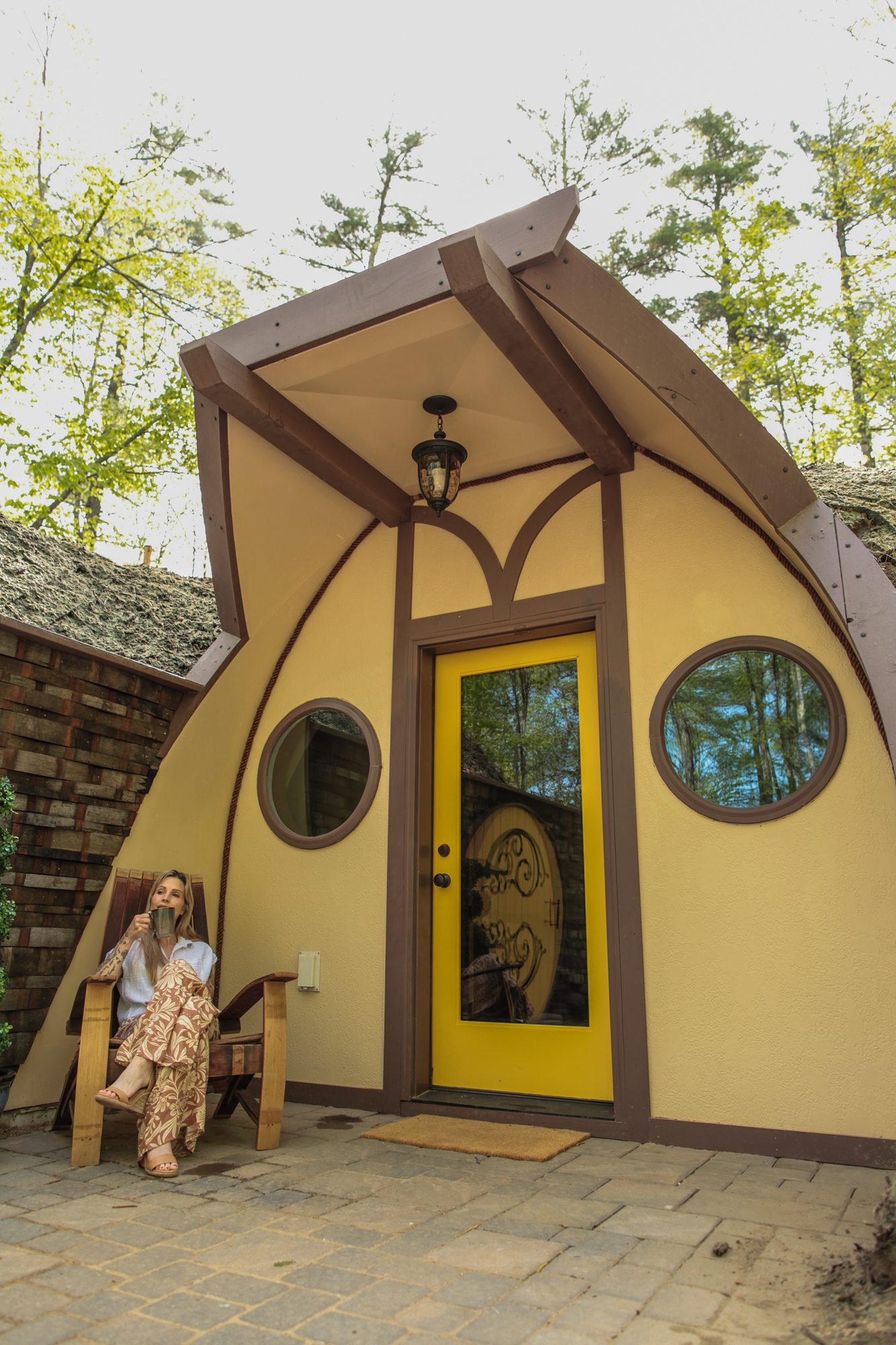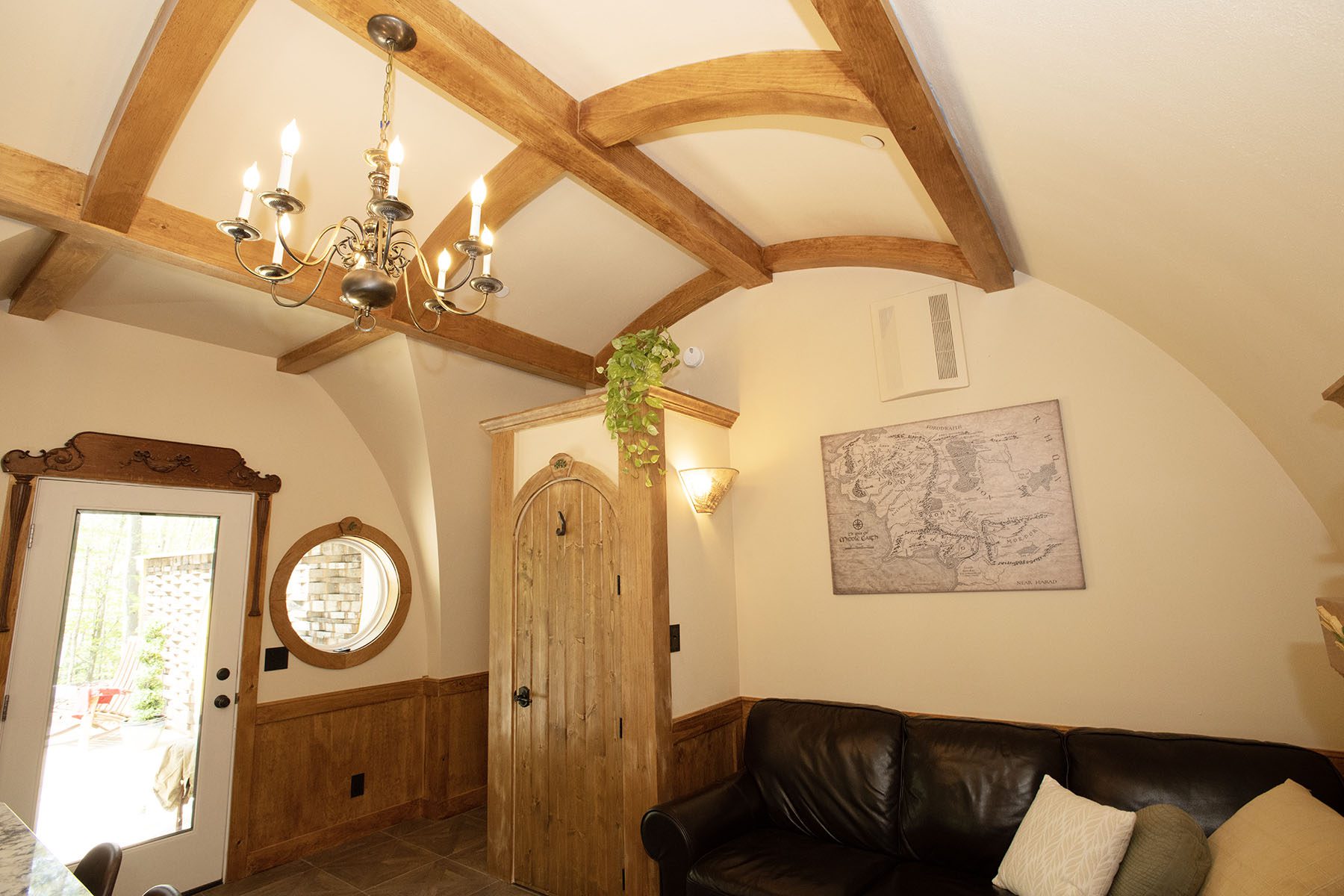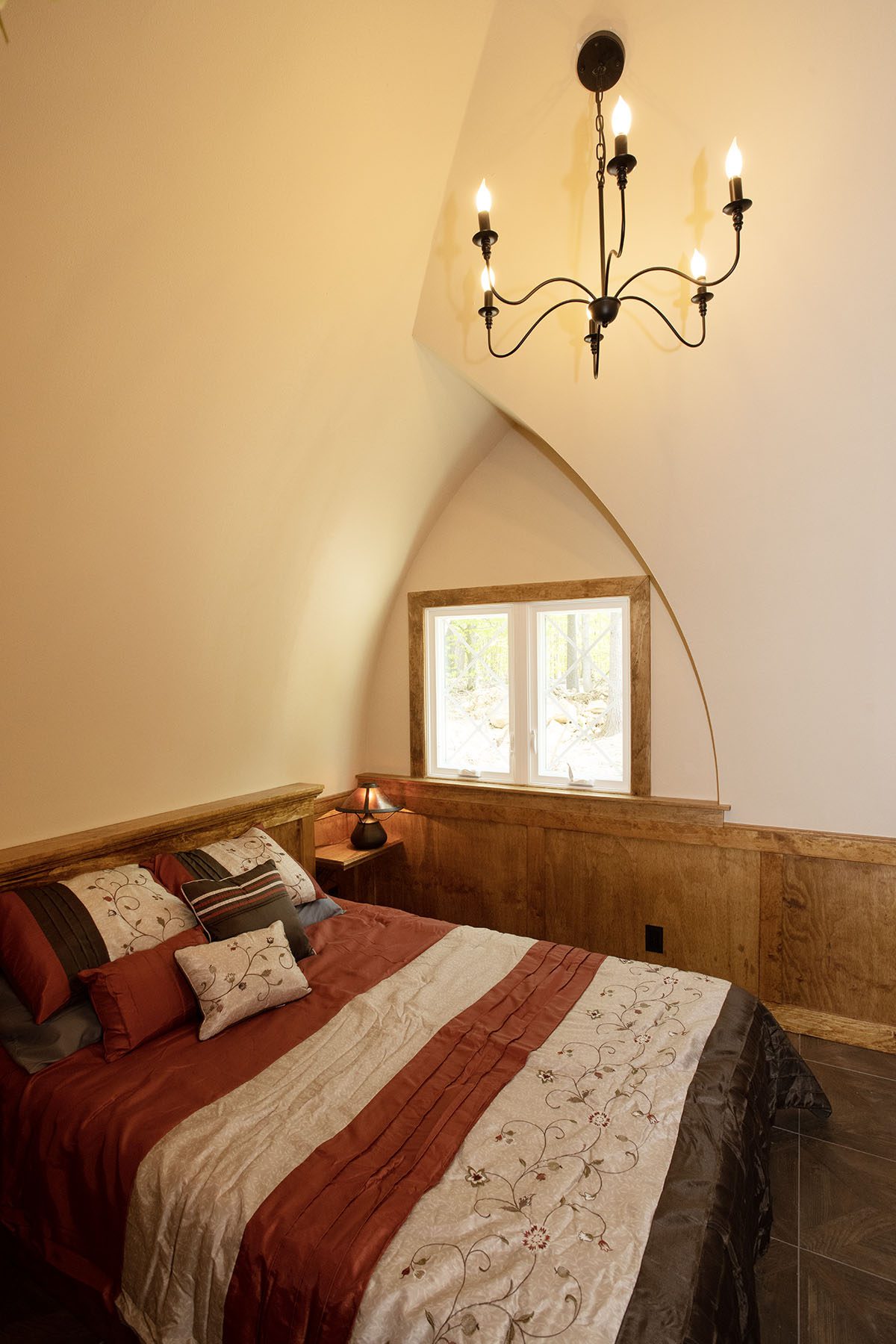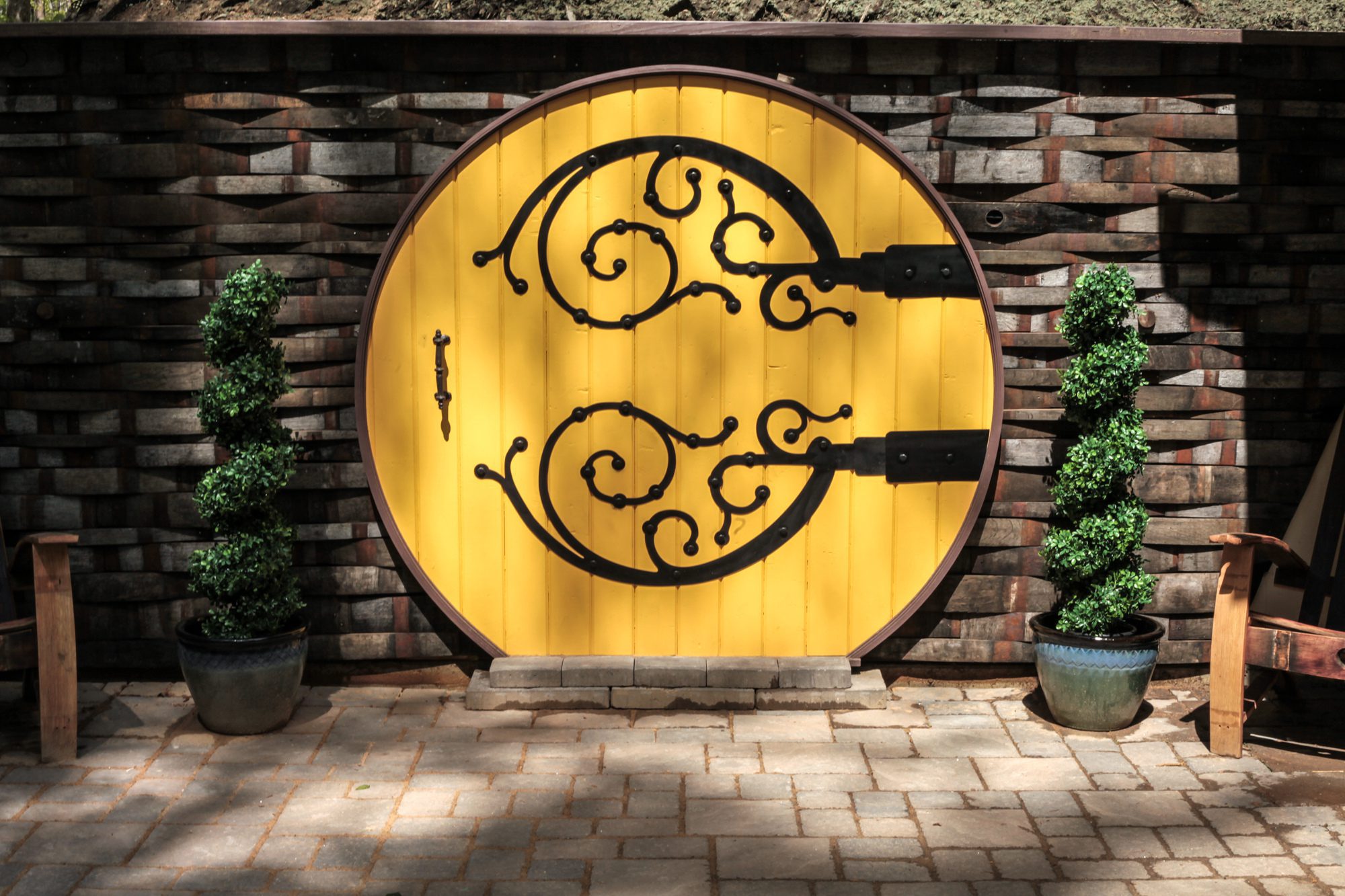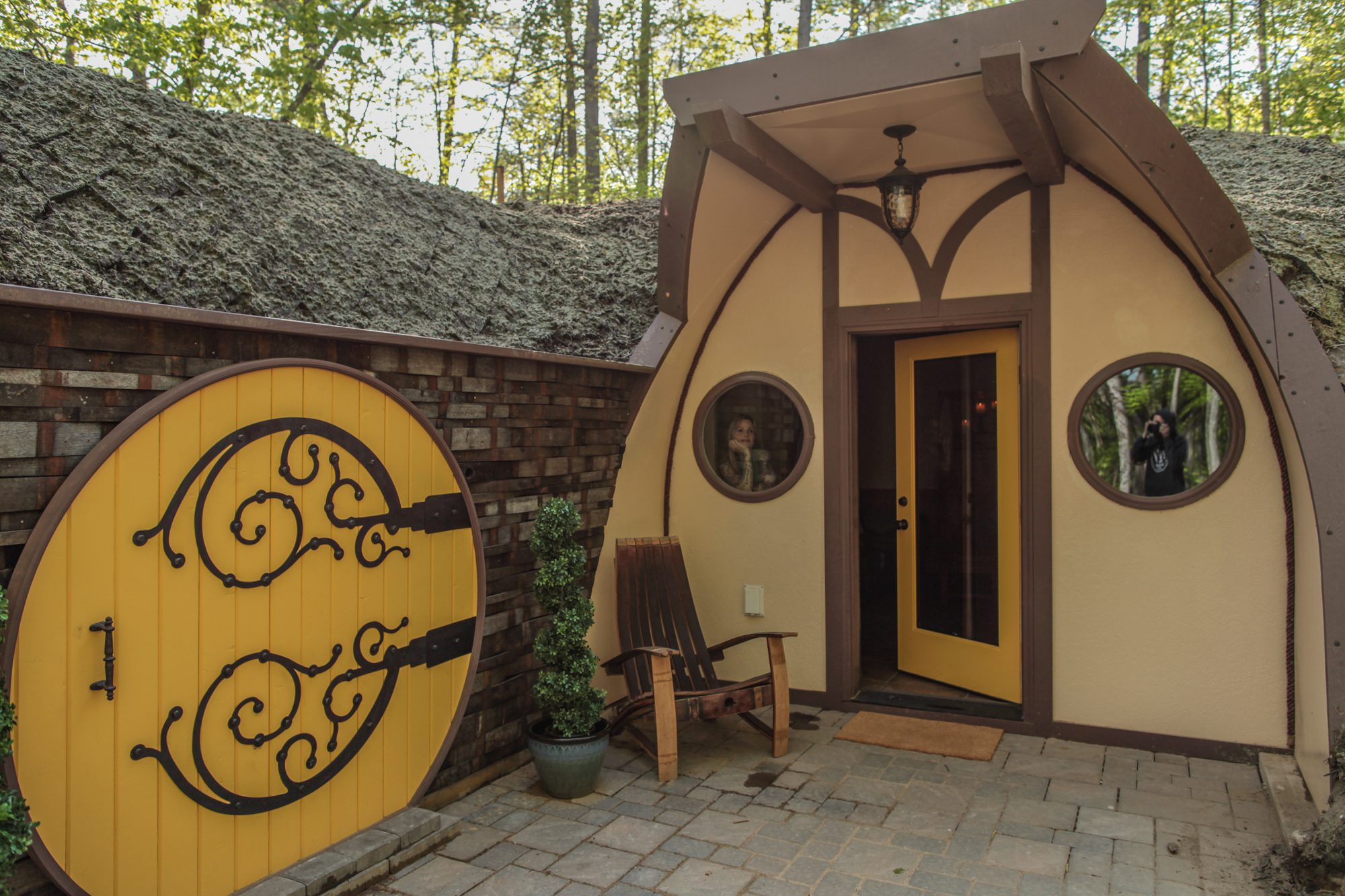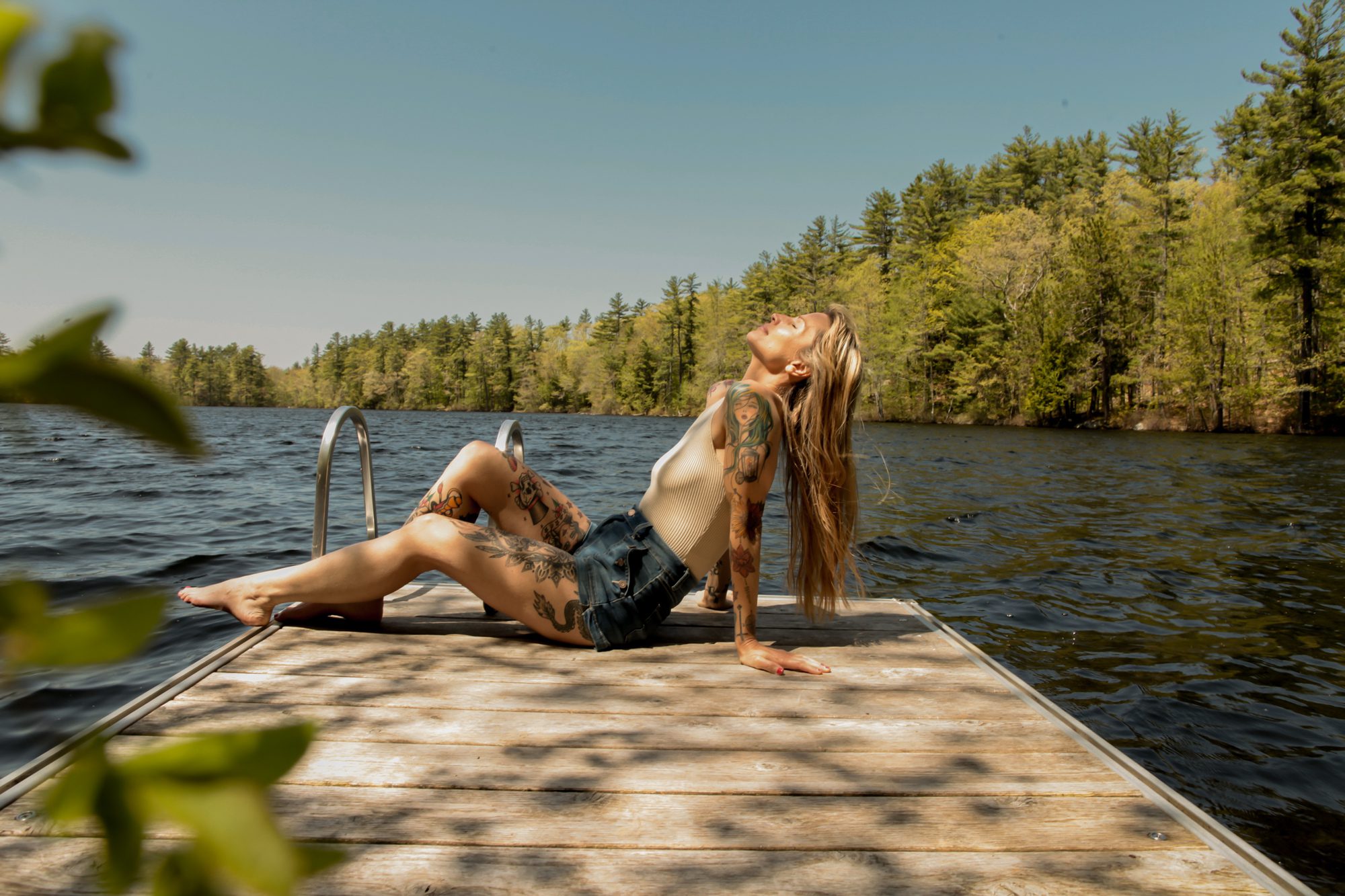 Our mission with Purposely Lost in general, and the Shire in particular, is to provide all the modern amenities you want on a luxurious vacation with all the eco-friendly sustainability that makes the experience utterly guilt-free. This eco-luxury is our vision for the future and one we think you will love as much as we do. 
As with all our properties, we've capitalized on our solar power and highly efficient heat pump systems to marry carbon-neutral living with uncompromising modern comfort. Now, you don't have to suffer or sacrifice to be at one with nature. Enjoy all the modern comforts of today with all the coziness of your hobbit daydreams.
While the Shire is furnished in a more modern style, the concept of living in such a structure has been prevalent in our popular culture in the decades since the Lord of the Rings first popularized it. We wanted to make sure we captured the essence of rustic life with nature-themed decor that includes hand-painted wall art and exposed natural bark.
Building houses into the ground didn't start with an urge to build hobbit holes though! Building into hills has been a concept in sustainable building practices for decades, with many examples built in the 60s and 70s as concept homes. There are more than 600 examples of underground homes in the USA today.  Making more of these inherently efficient and eco-friendly homes a reality has been a long-standing dream for us, as sustainability-focused designers and builders of luxurious tiny treehouses.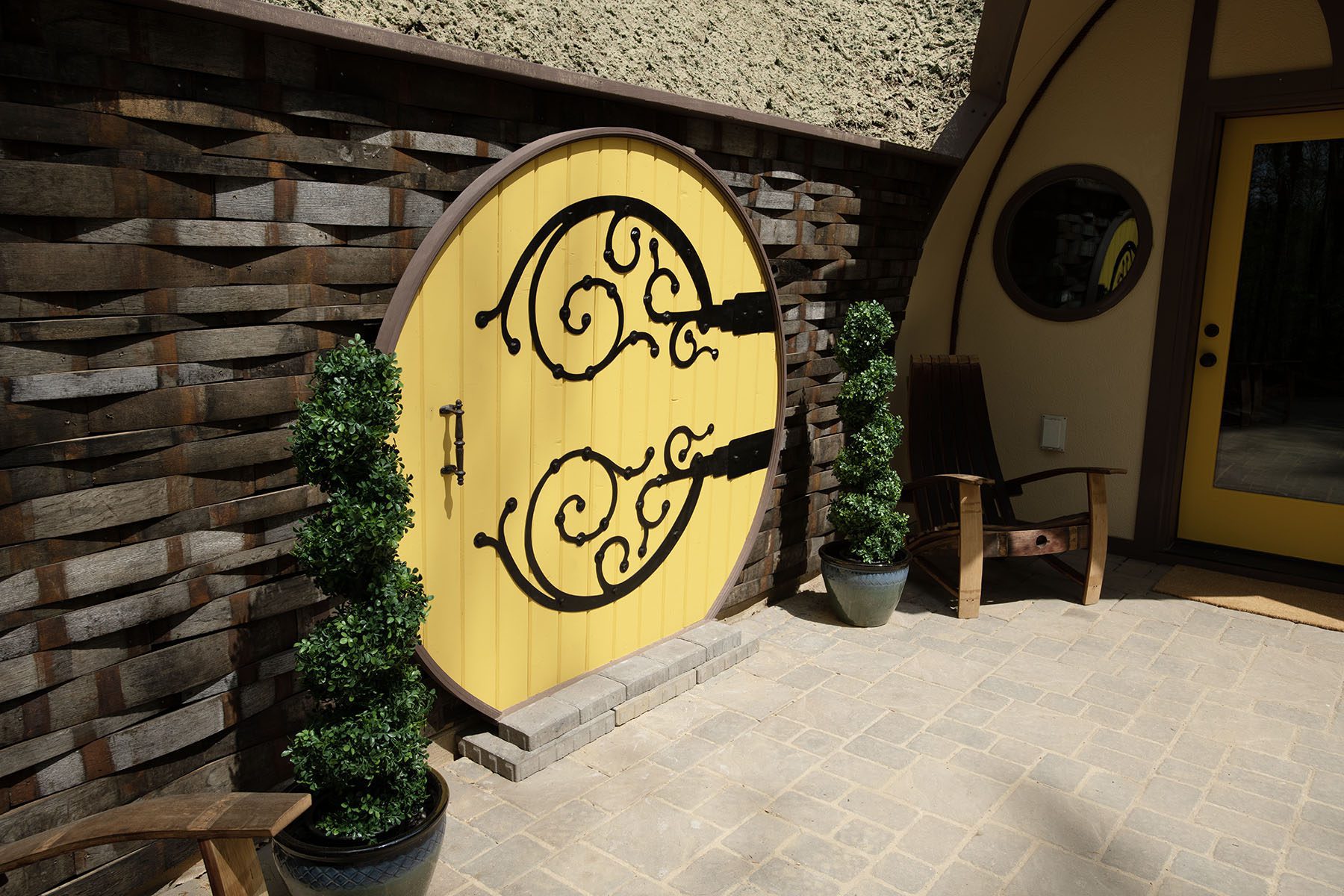 We kindly ask that you do not cut down any trees on the property. Please use the firewood provided.
Please be cautious of our countertops when cooking and do not cut directly on top of them- cutting boards are provided in our fully stocked kitchen
To protect the floors and make for a cleaner stay, please do not wear shoes in the treehouse!
Please be sure to clean the grill after each use. A grill brush is provided!
After using the canoe be sure to store it upside down and secure it with the lock!
What our guests are saying…
We had a wonderful stay at Purposely Lost!  We stayed two nights at the new Fern Hollow Hobbit House.  The house itself is beautiful and so cozy.  The outdoor space is absolutely perfect!  The large front patio with the firepit and private hot tub, overlooking the woods and lake was stunning!  The location is great, close enough to town that you can just pop to the store and back, but far enough out that it feels extremely secluded and private.  You can see two of the treehouses from the Hobbit House, but there's plenty of space and trees in between to not hinder your privacy at all.  We had the best weekend getaway and cannot wait to come back again!  Highly recommend!
- Marybeth S.
My family and I (2 adults and 2 kids) stayed 2 nights in the Canopy Treehouse last month and had a lovely time. The property was in a great location, but hidden just outside. You felt like you were in your own little world. We had tons to do between the treehouse, the hot tub and the pond.
Everything was clean and well maintained. And, I have an eye on that hobbit hole in the future. Thoughtful amenities
- Jason M.
I stayed for 3 days and nights in the Canopy Treehouse. It was awesome! It was very clean and had all the amenities you would need. It was very private, no one around. Great place for relaxation. The pond was gorgeous. I went solo and felt very safe. Management was a phone call away if needed and very responsive. Must go there to experience it. It was a 2 bedroom treehouse but had plenty of space. Did not feel cramped at all. I highly recommend this tree house.  I plan on returning in the future.
- Debbie P.