Your unique Maine getaway at the Sky-Frame Treehouse is one you will not soon forget. The soaring spire of this modern tiny home is a fresh take on the traditional A-frame. Both contemporary and rustic, the Sky-Frame has an open living room and kitchen, two queen bedrooms, and a shared full bath. We have blurred the line between indoors and outdoors with an entire wall made of glass, numerous windows, and skylights. Your private hot tub has been integrated into a huge, naturally occurring boulder field immediately behind the treehouse, with a firepit nearby.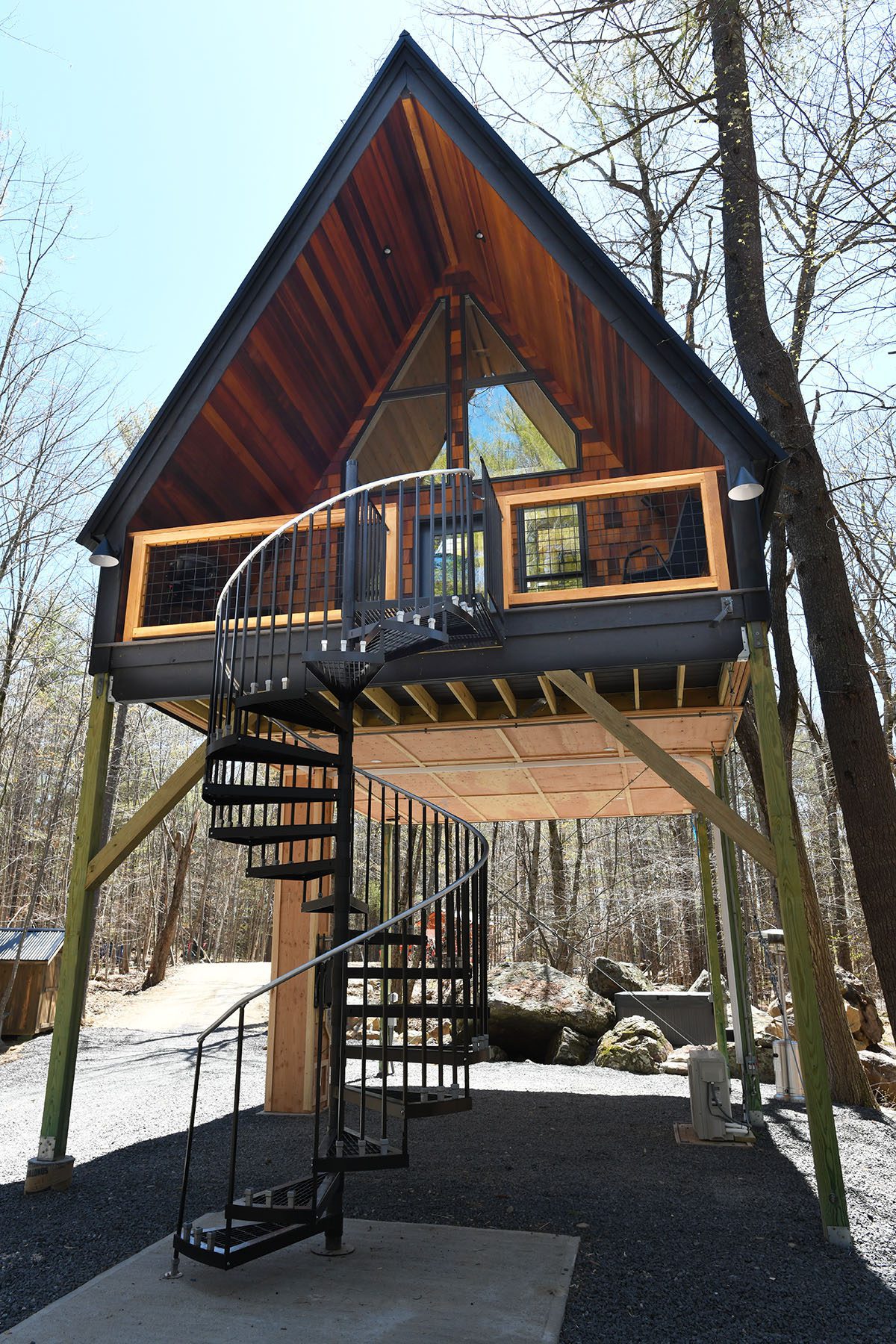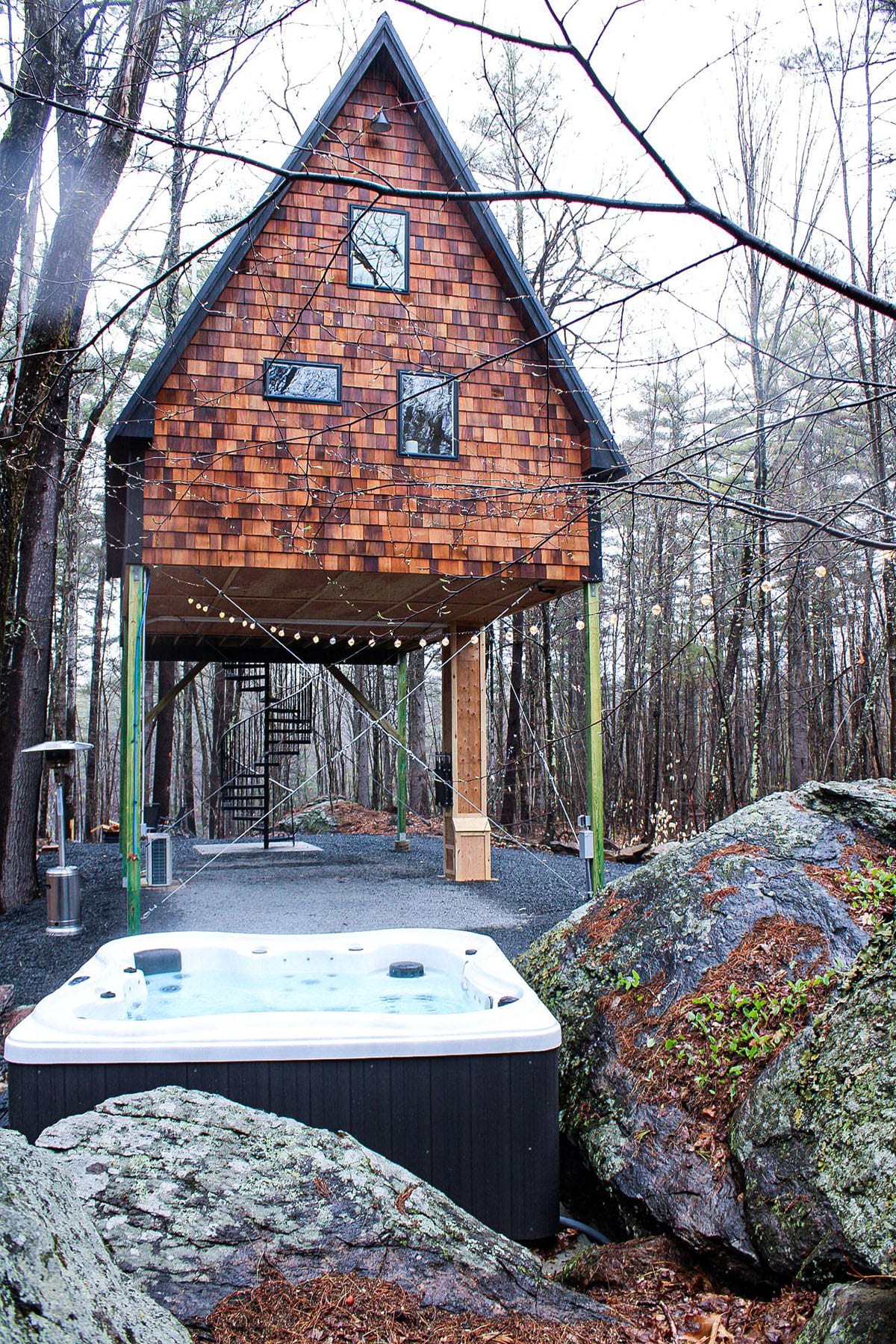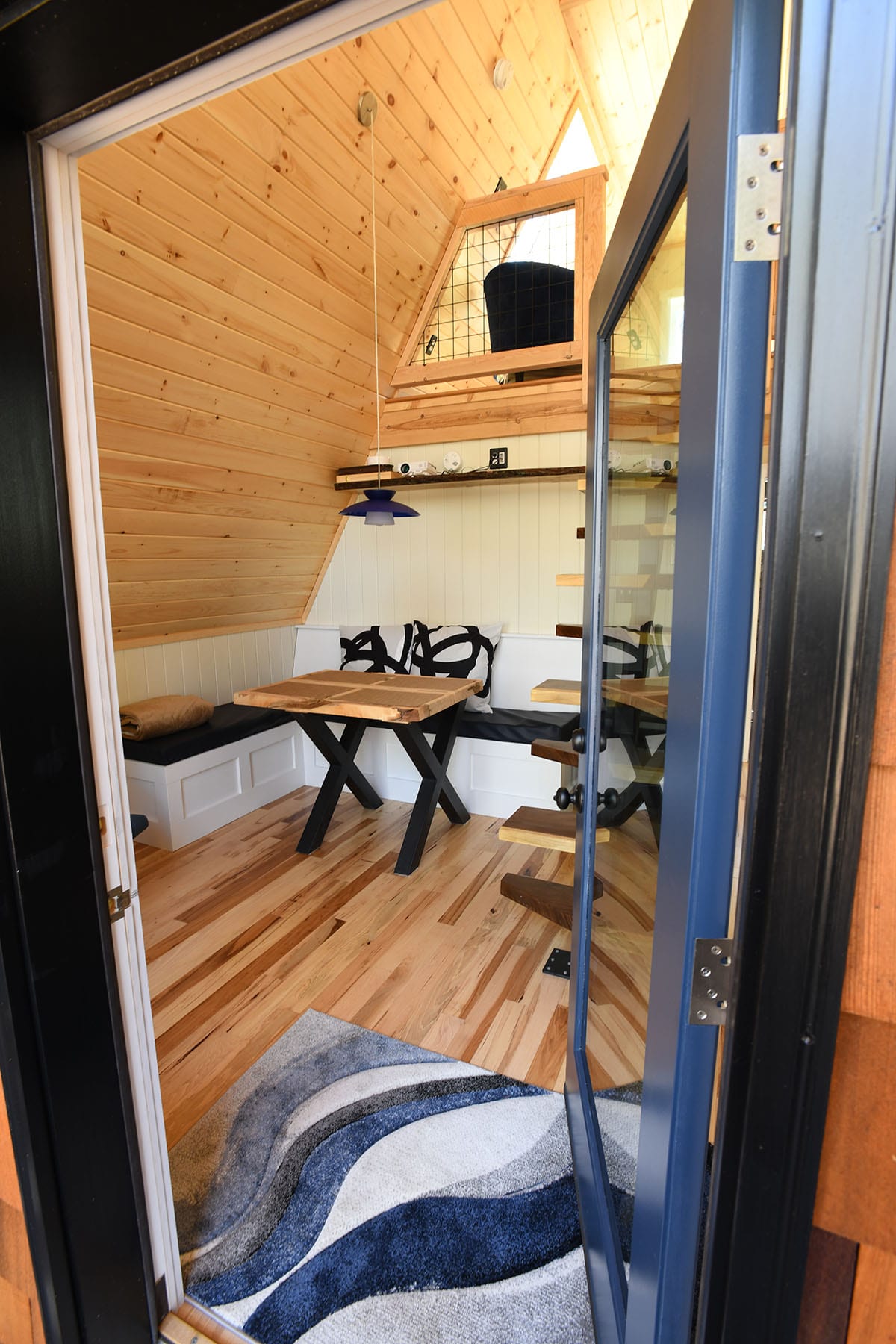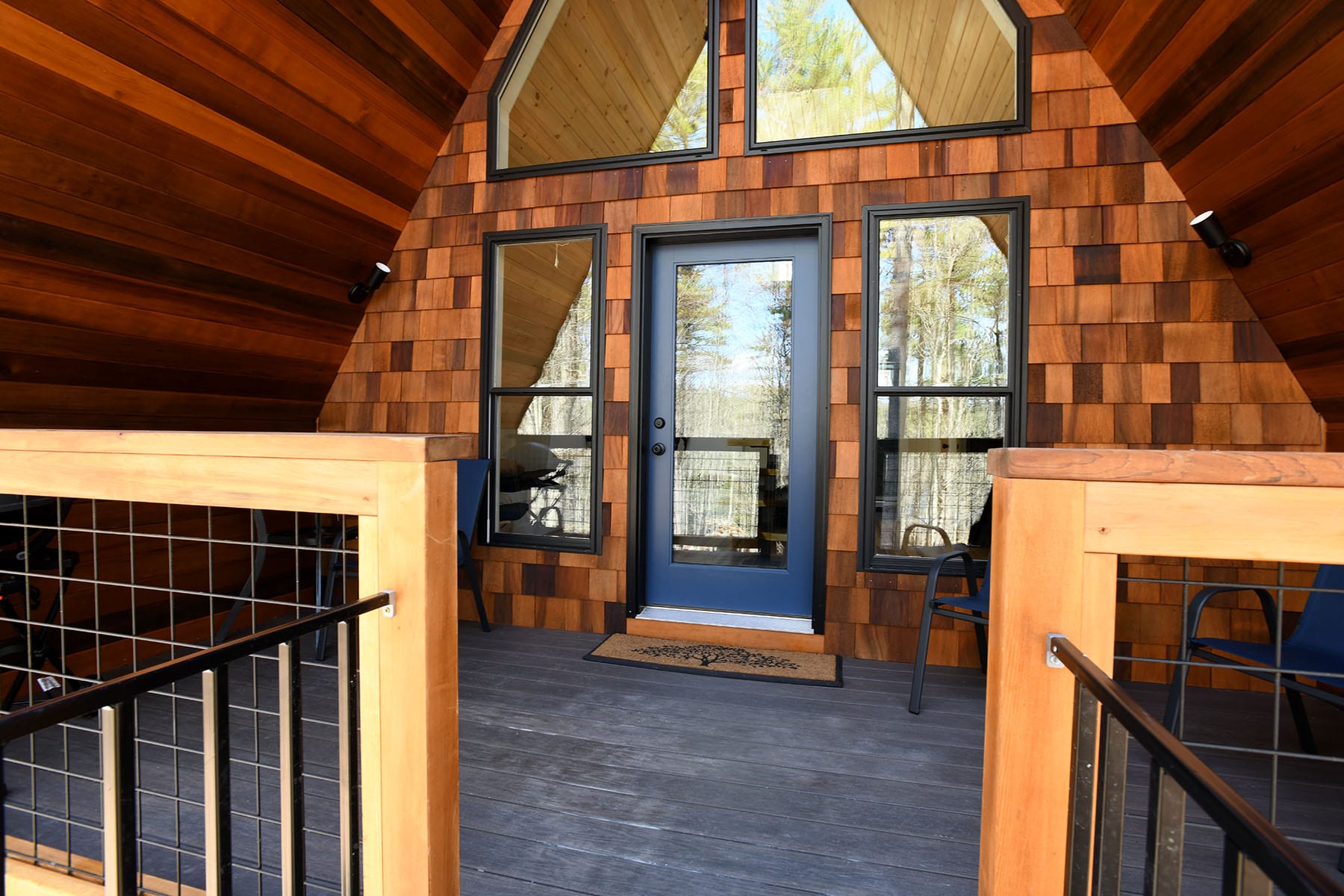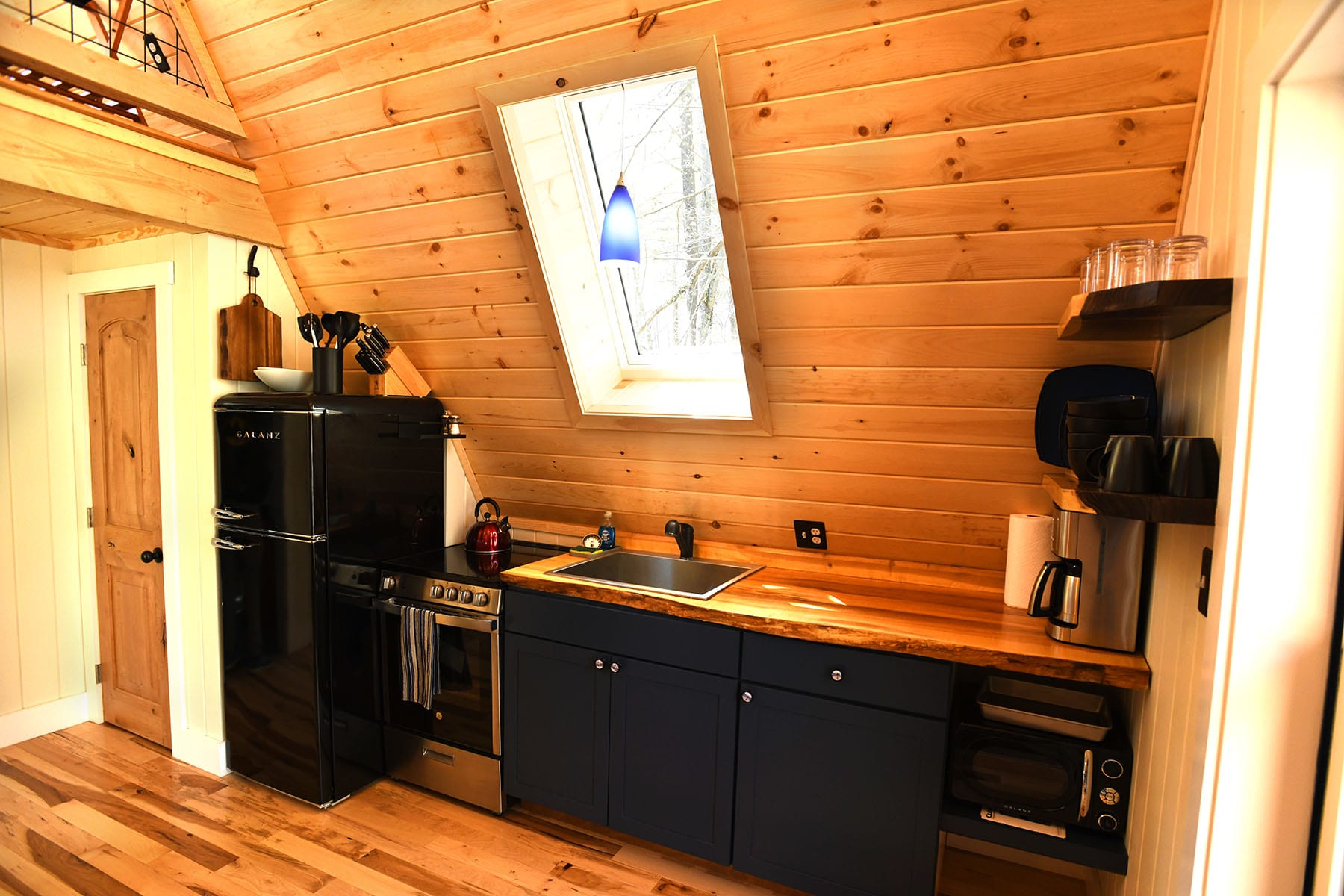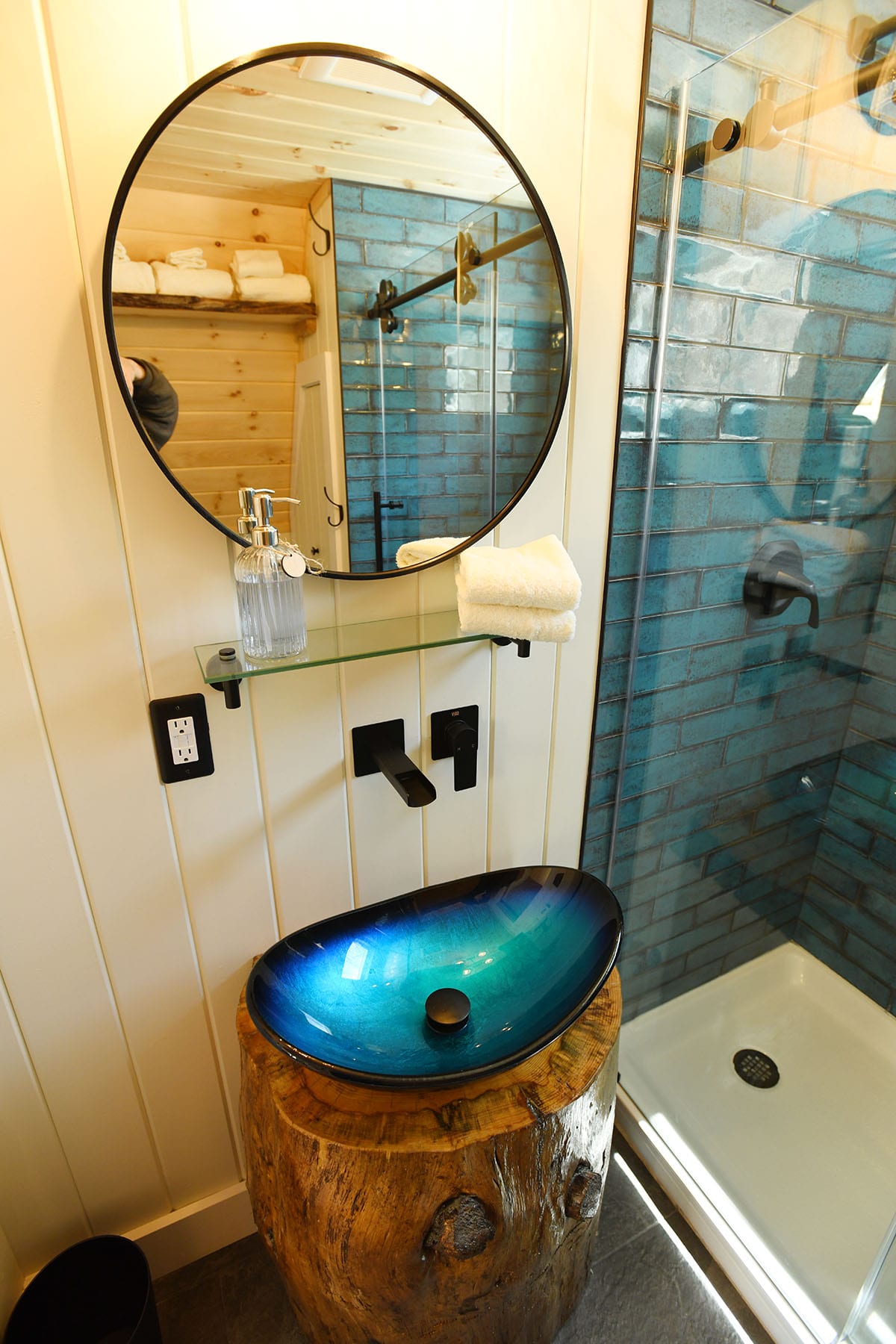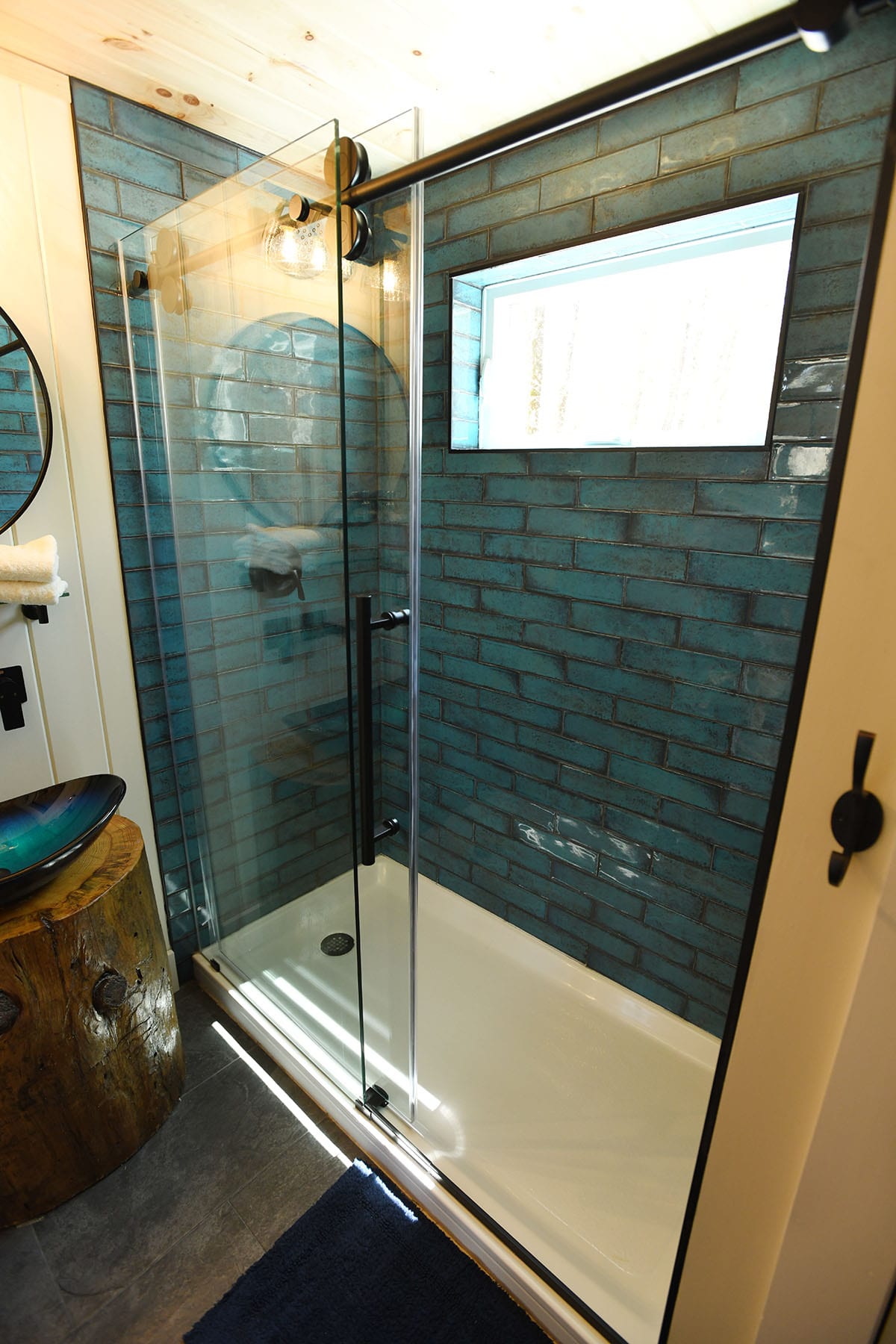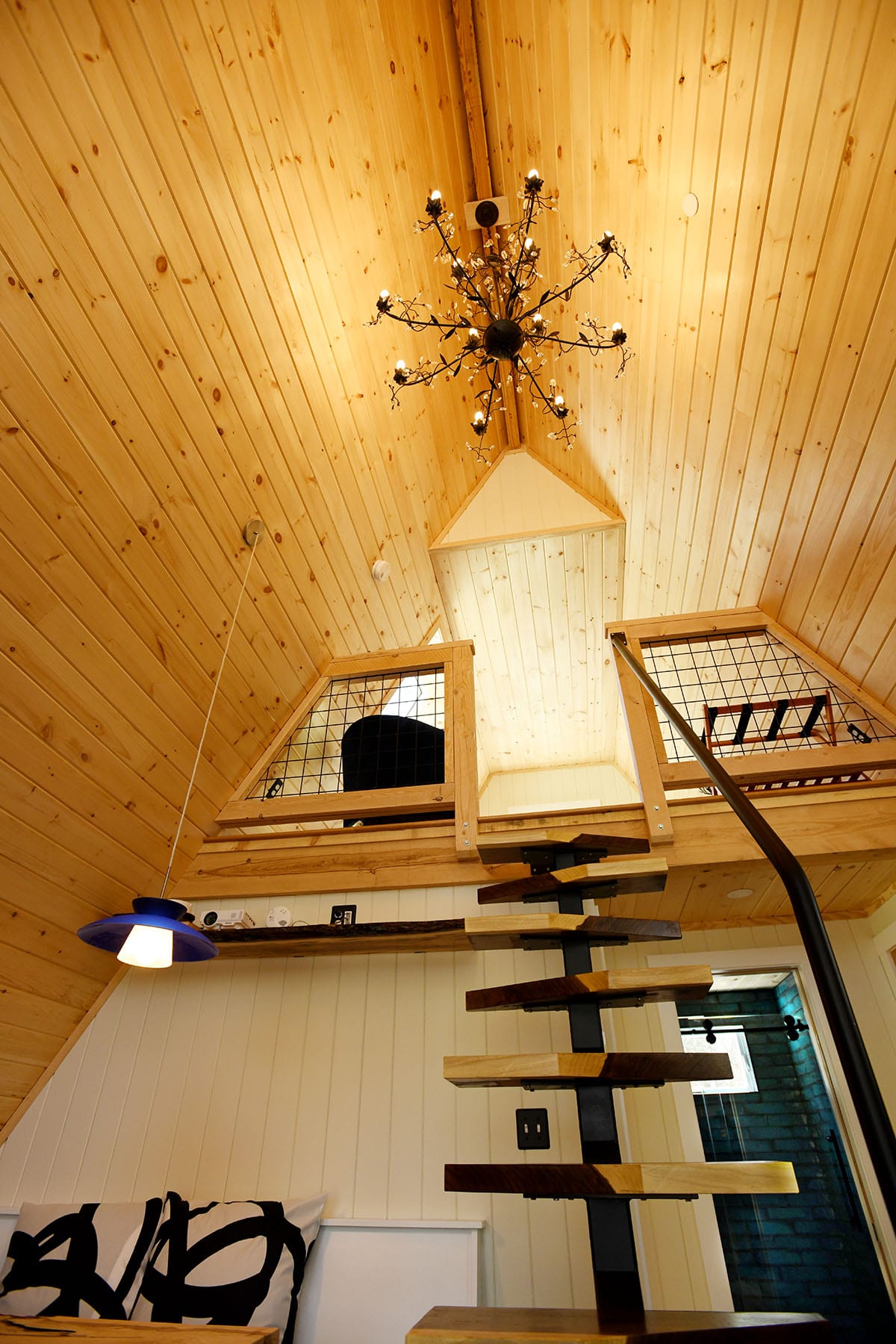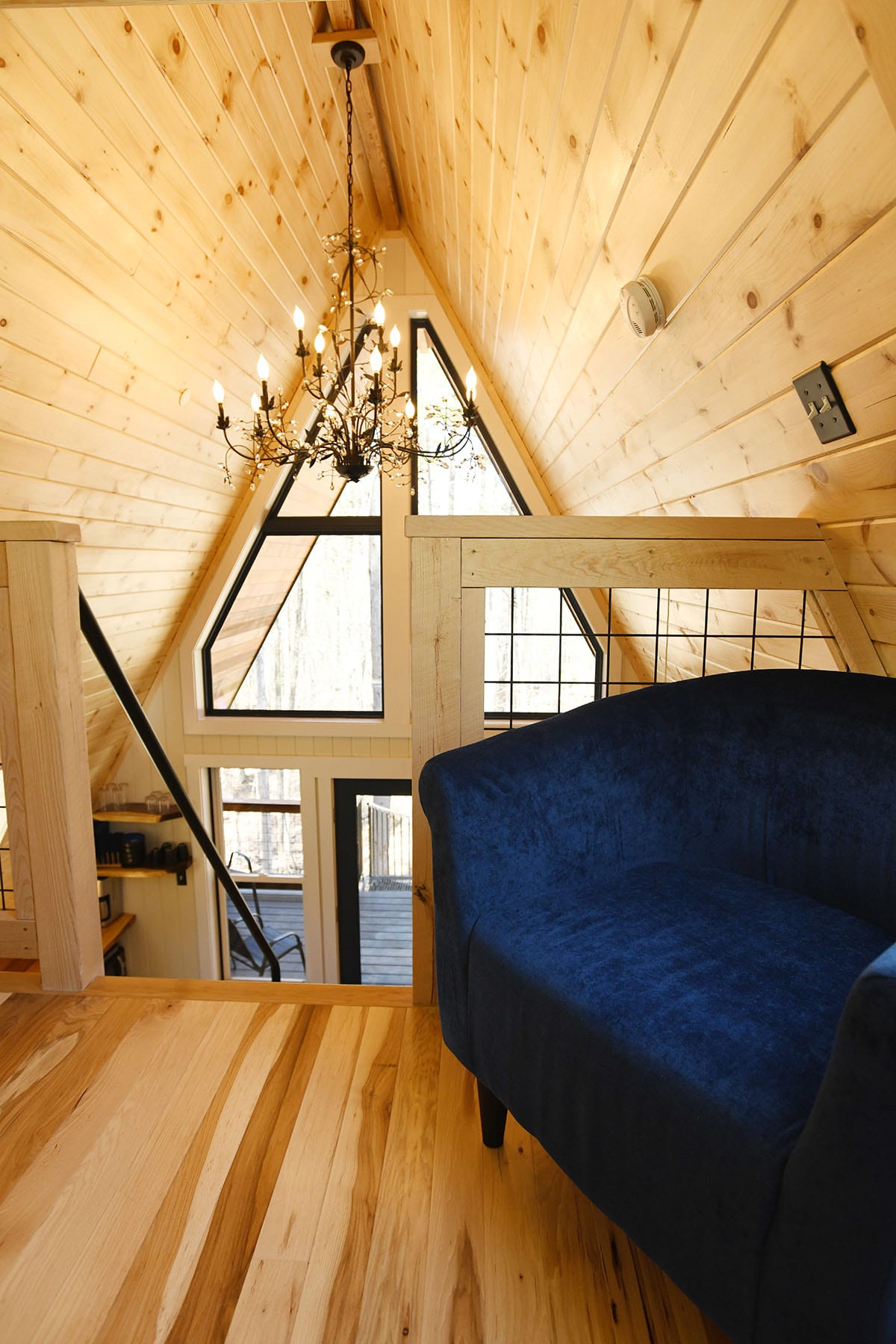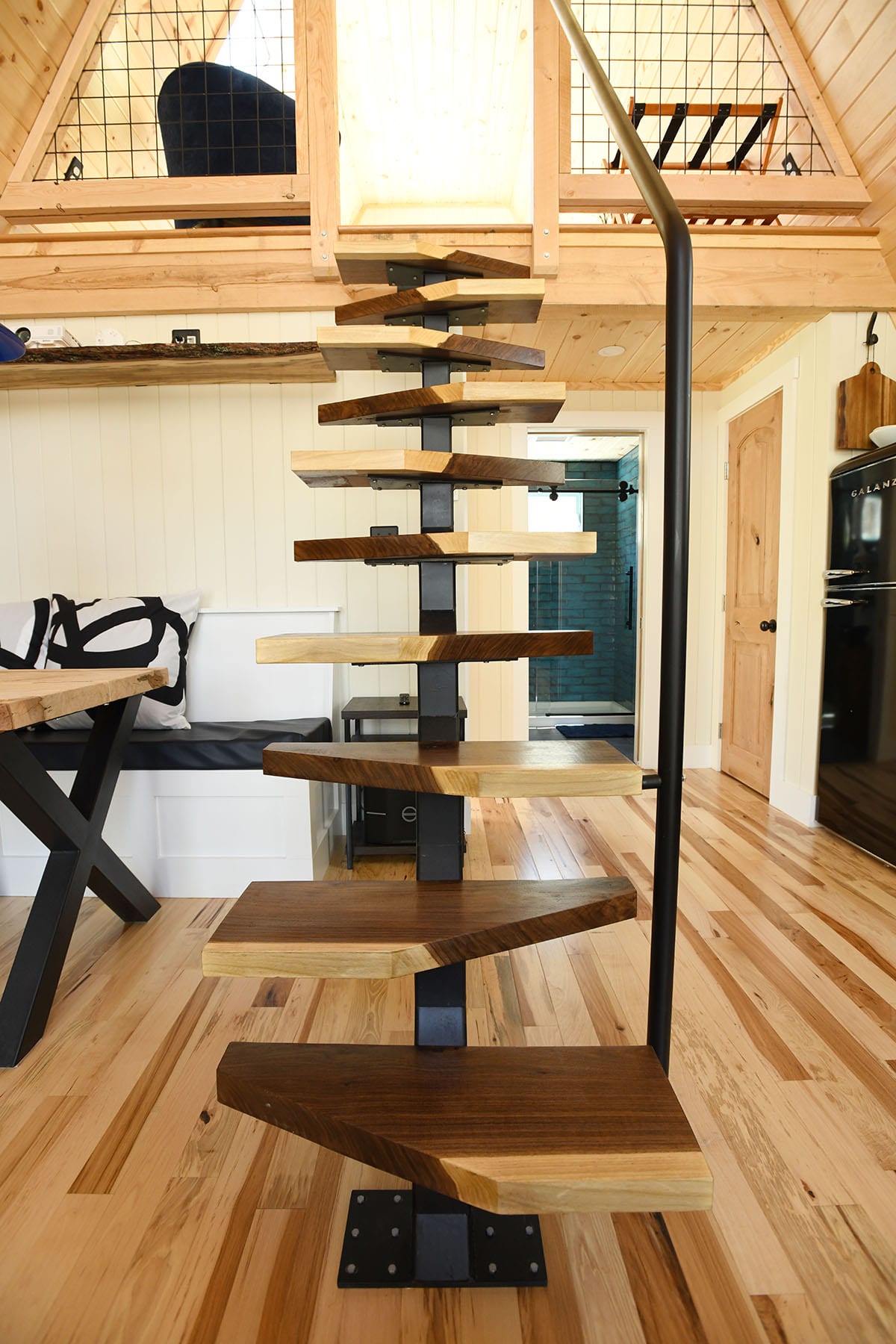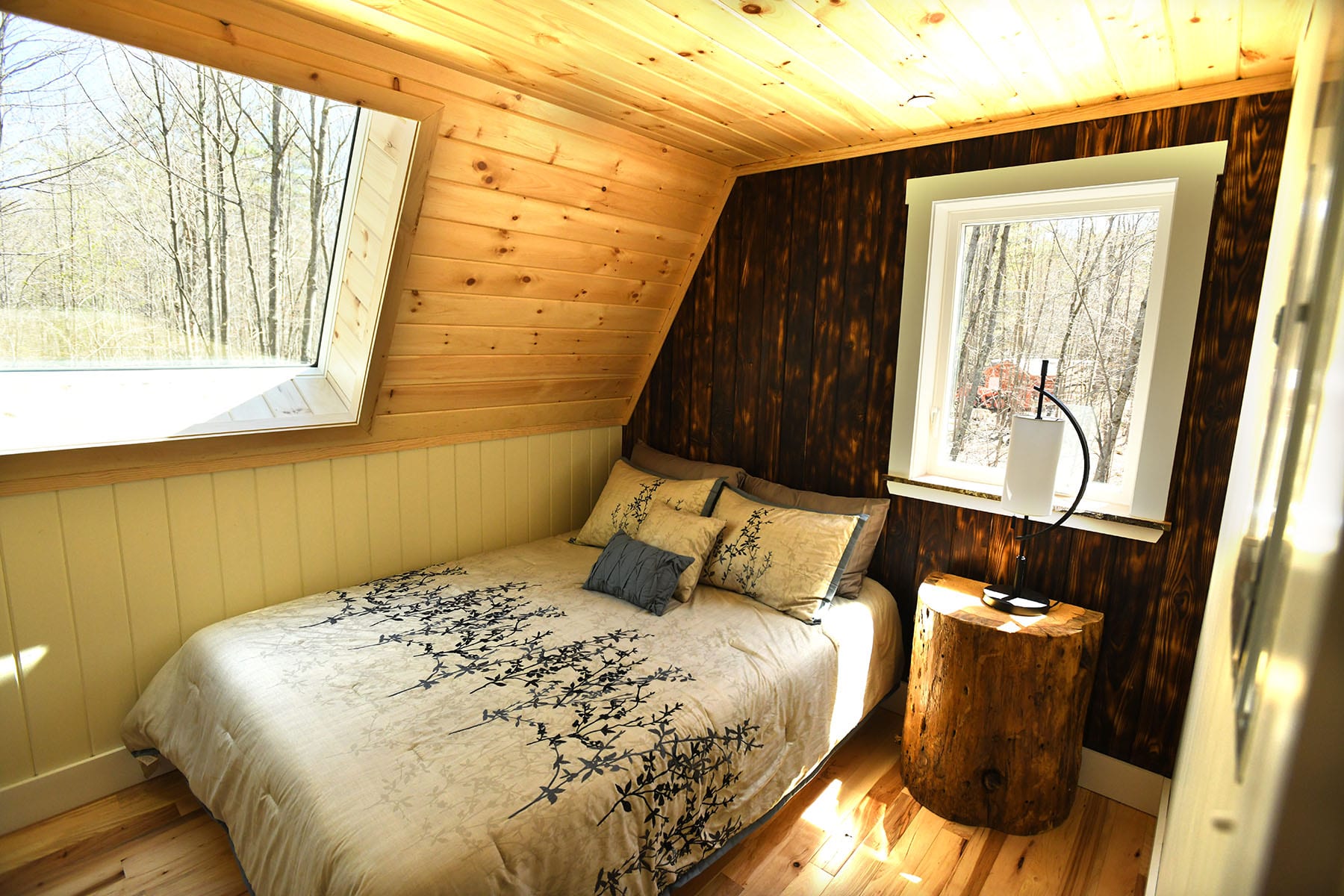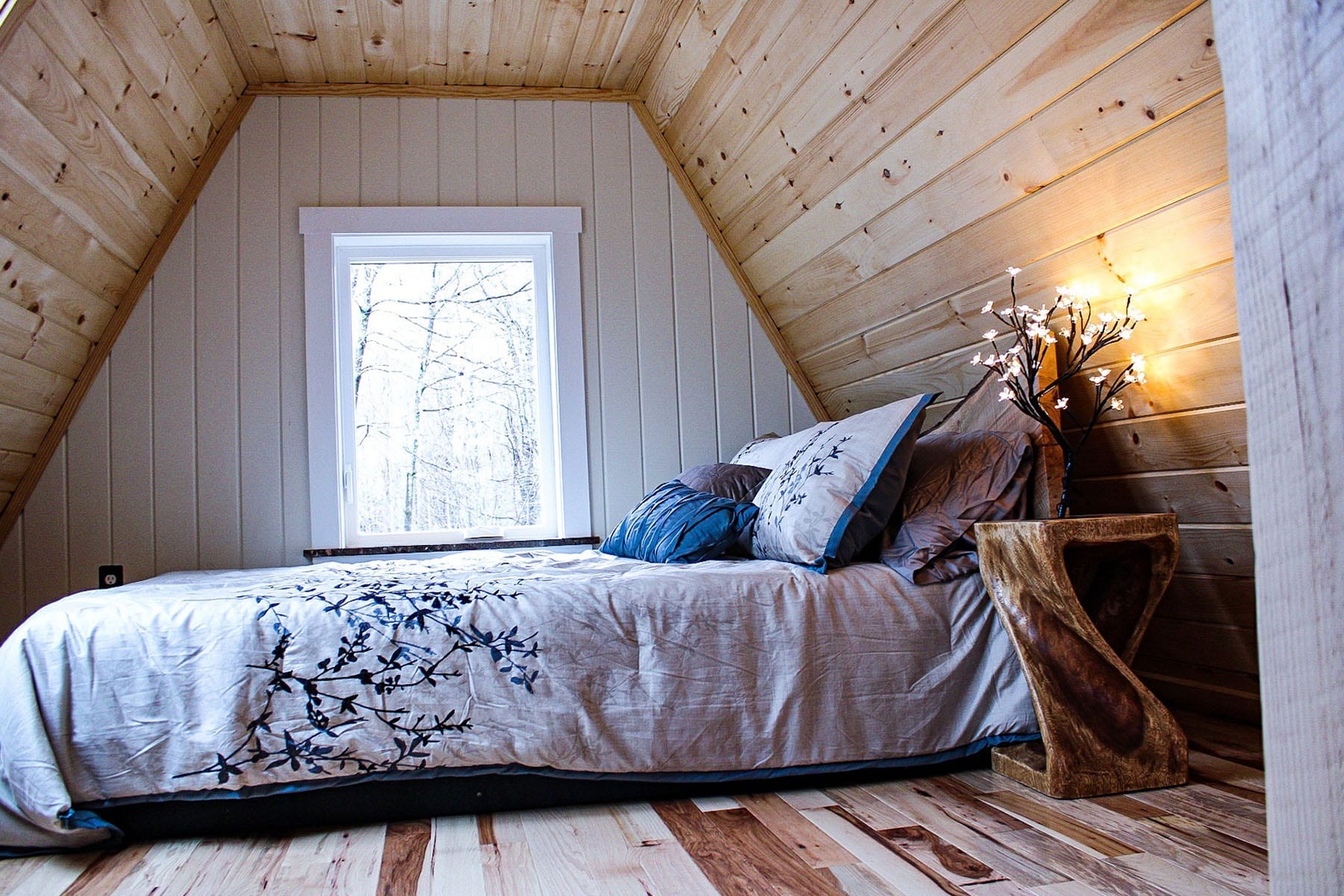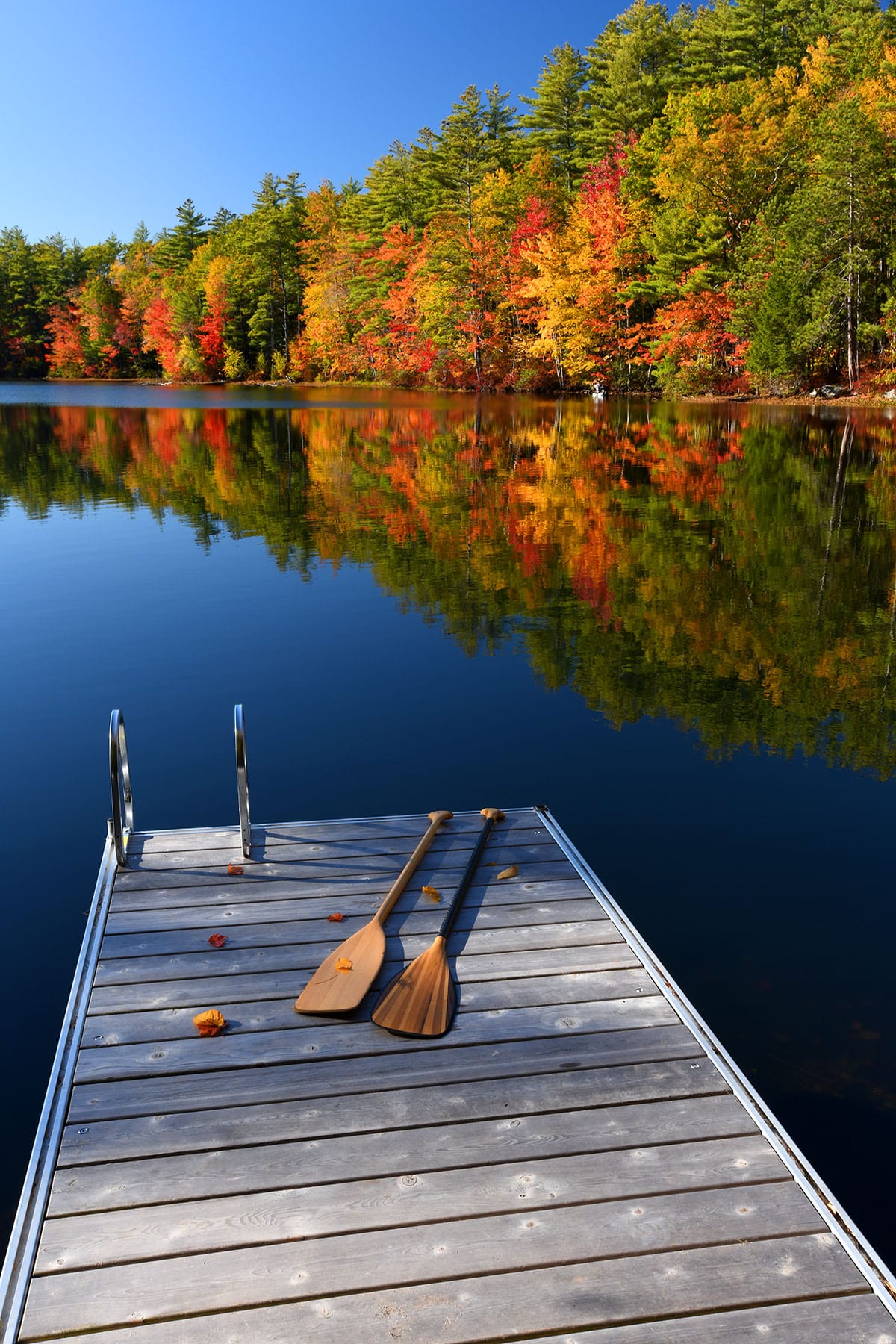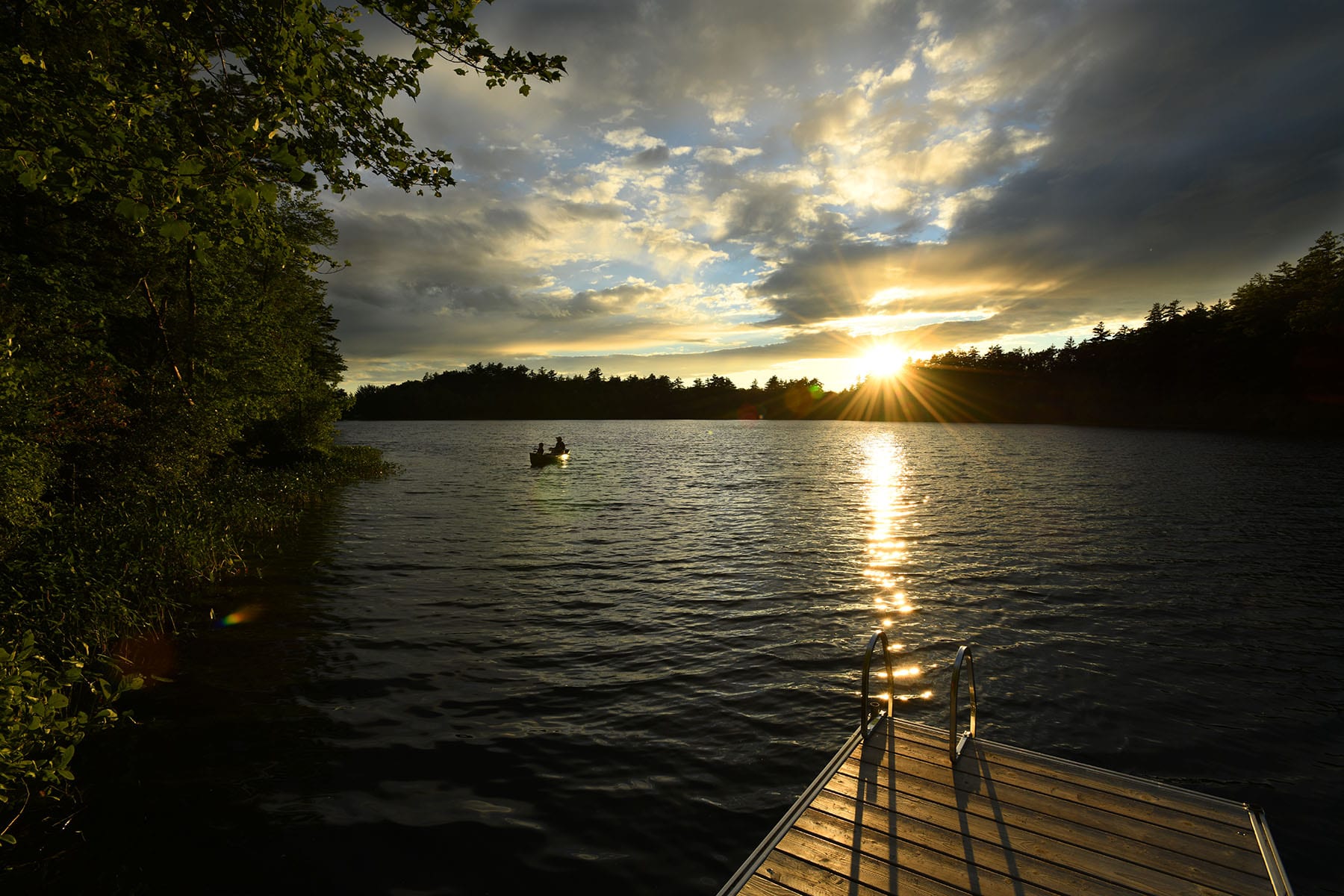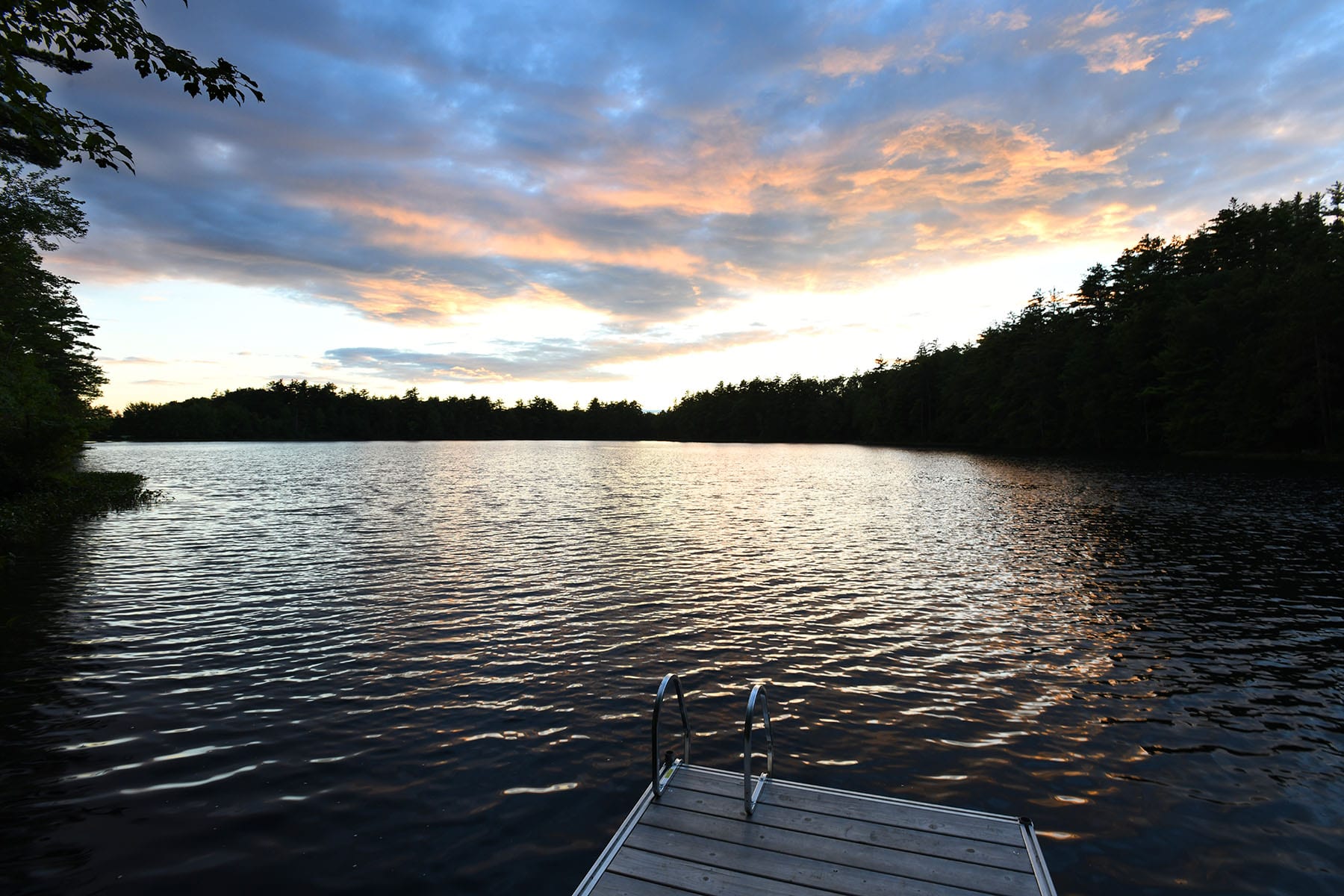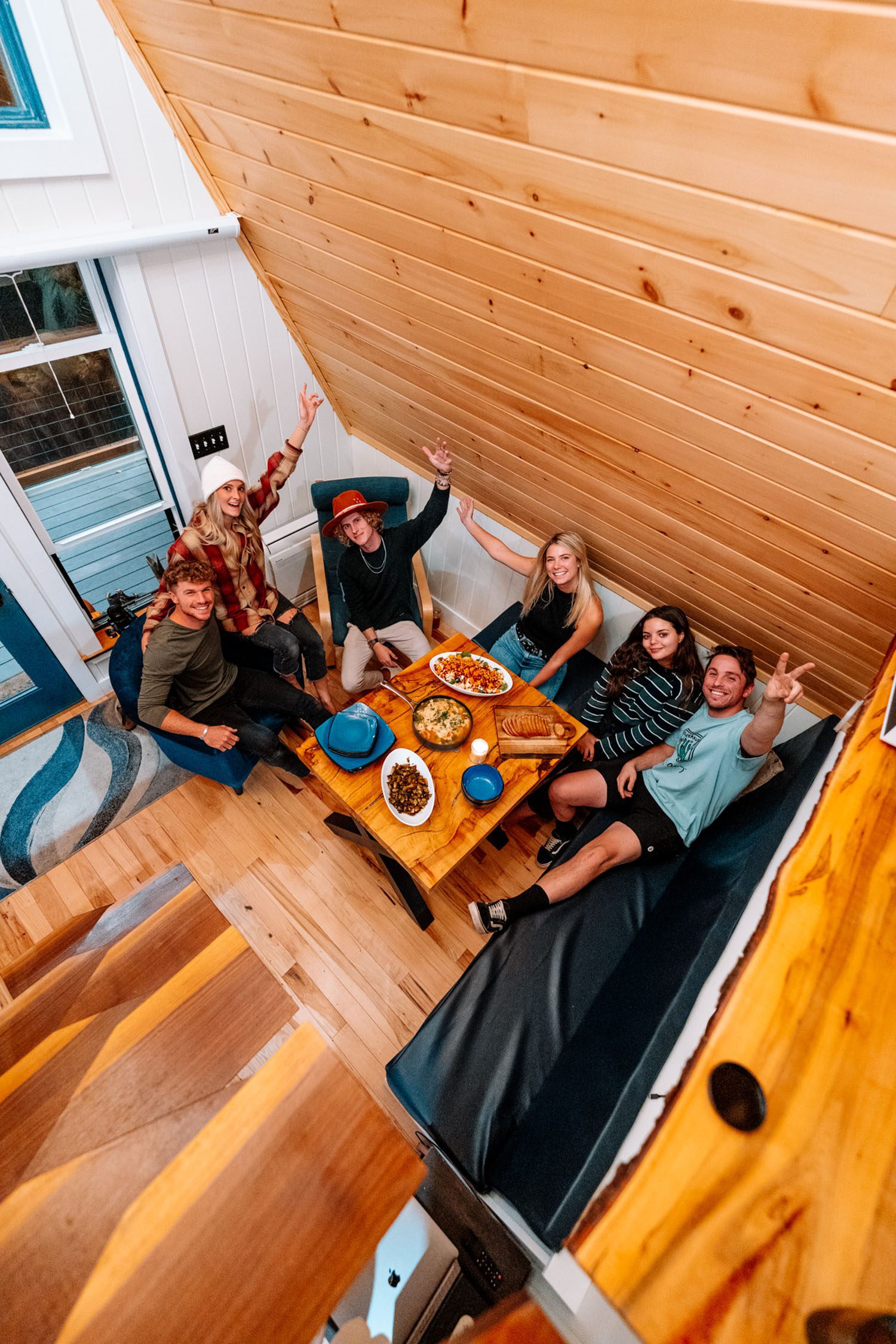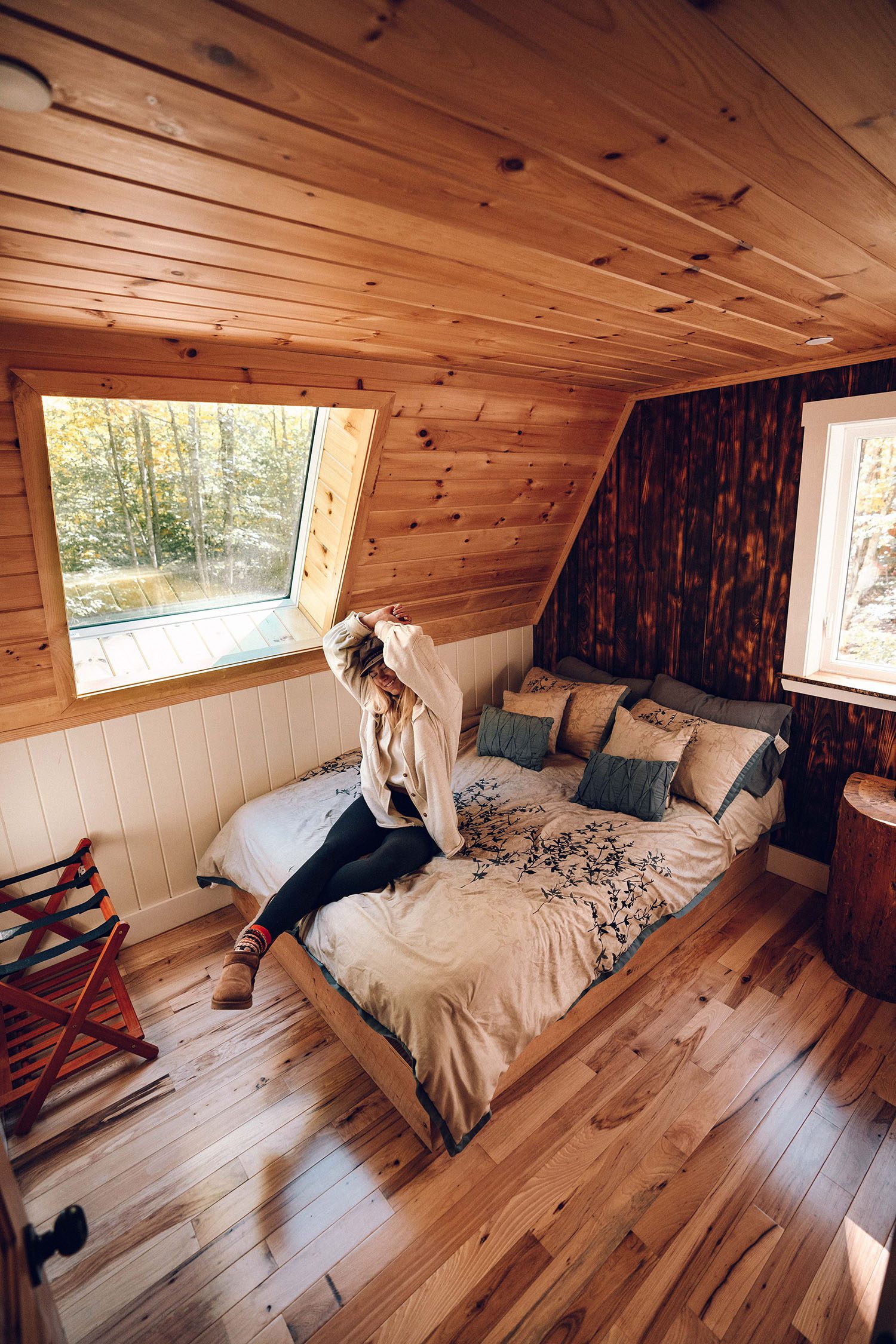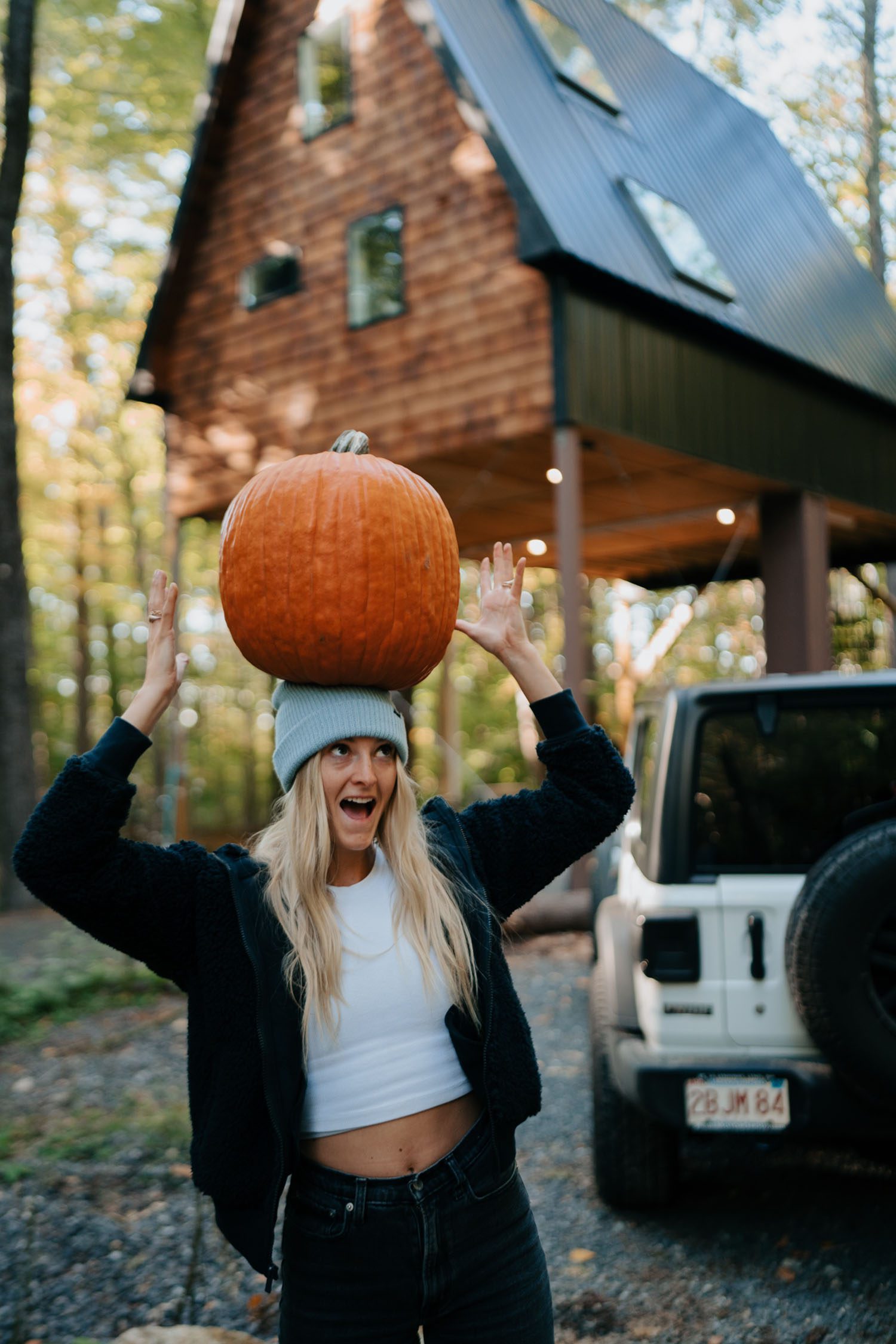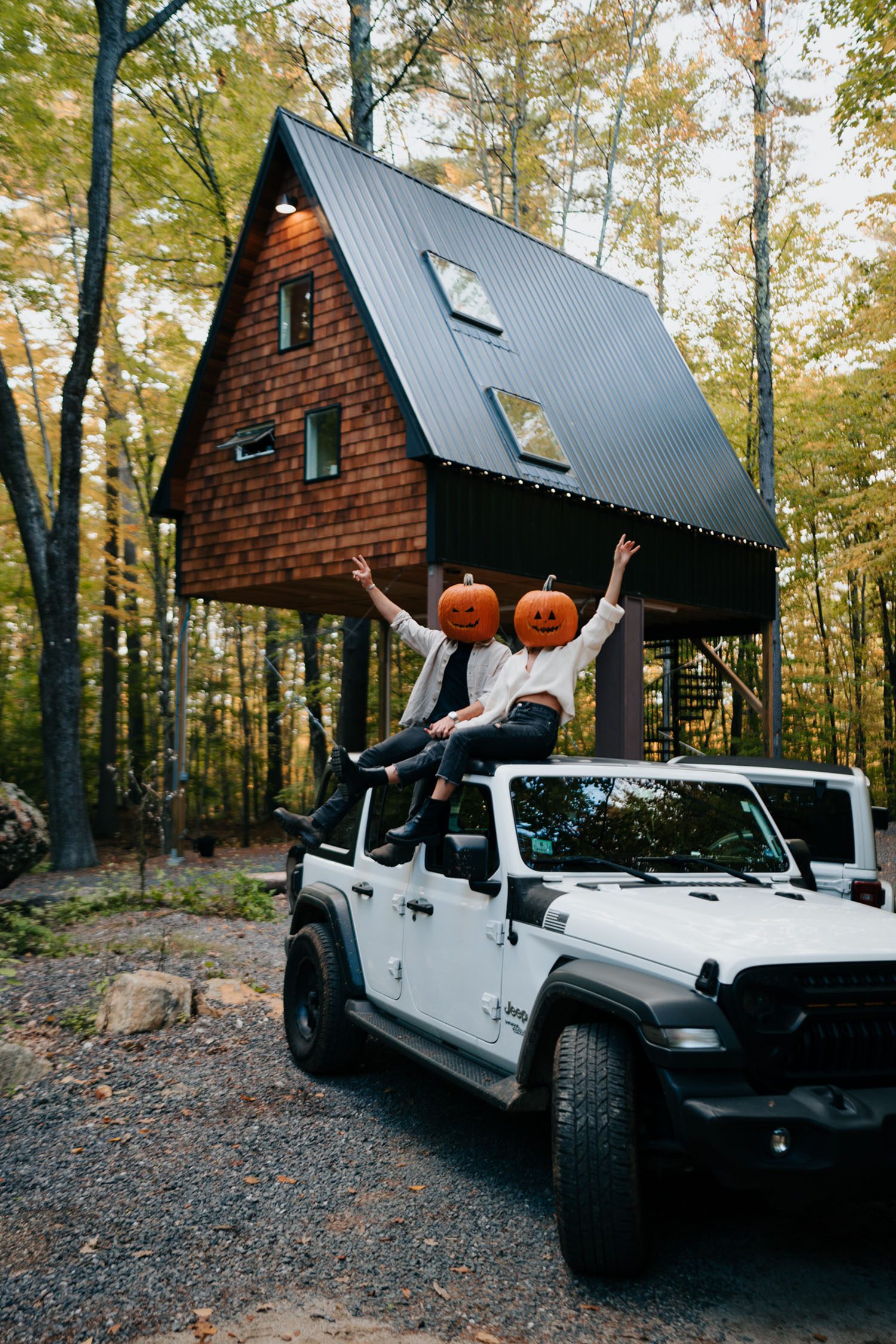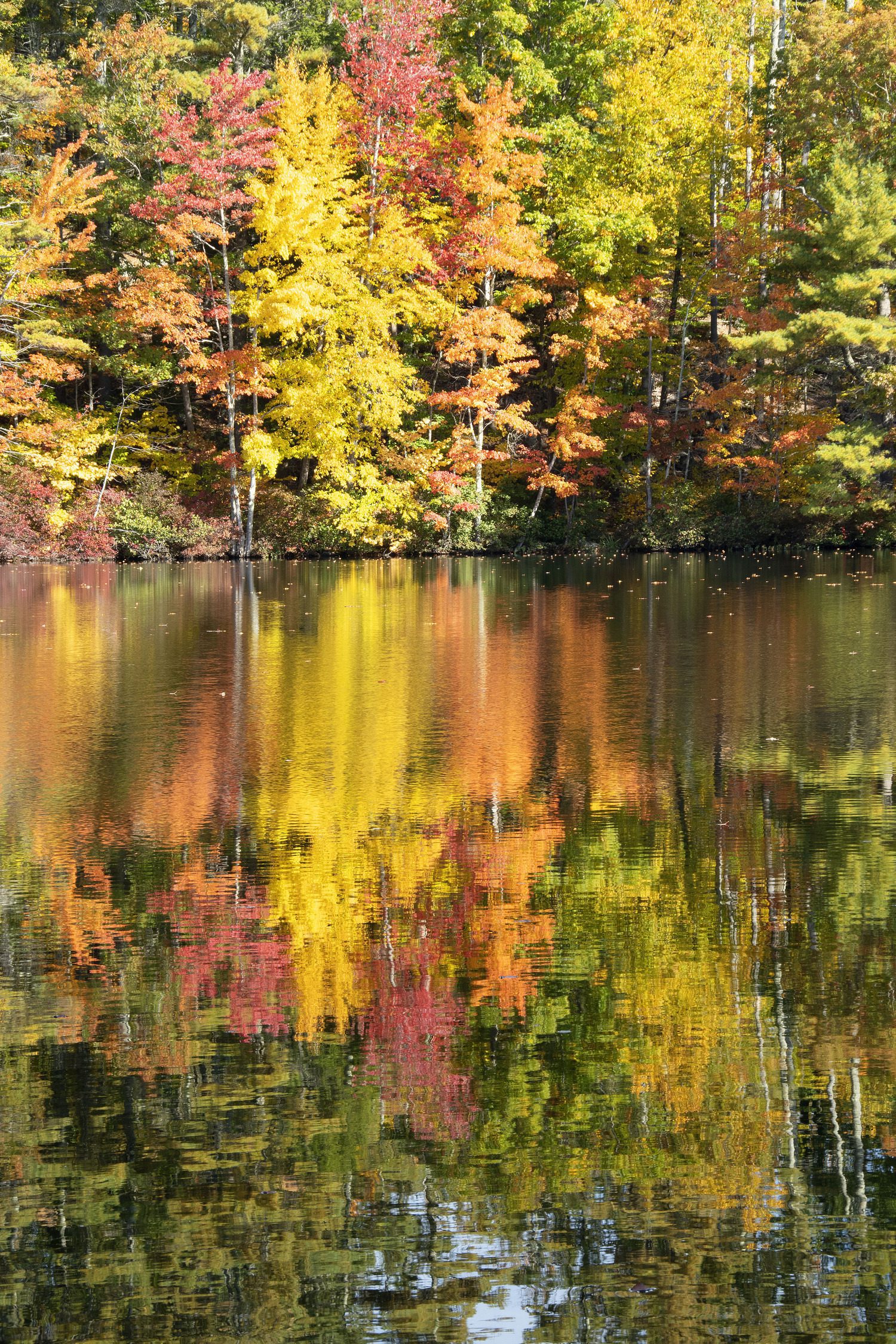 SUSTAINABILITY THAT FEELS TOO GOOD TO BE TRUE (BUT ISN'T!)
When you escape from the city and stay somewhere quaint and beautiful, you don't always get luxury, and rarely do you get met with a prime example of environmentally conscious sustainability. At The Cliff House, you get both a carbon-neutral experience and the kind of luxury usually reserved for posh hotels in big cities with a rainwater style shower head, large display projector, fully stocked kitchen, and two queen-size beds in separate bedrooms.
All of our treehouses have been built with world-class efficiency at the forefront of planning.  With double walls, extra insulation, 400% efficient heat pumps, and renewable electricity powering all appliances, your treehouse will stay warm in the winter cold and cool in the summer heat, guilt-free.  All of our treehouse and Hobbit home properties are solar-powered, making them totally carbon neutral in addition to barely sipping power.
DESTINATION: SOUTHERN MAINE
Your unique treehouse retreat is waiting patiently for you in scenic southern Maine. You will get to stay in a forest that has been growing wild for most of the last century without feeling like an intruder from your vantage up high. centrally located inland between Portland in the Northeast and the coastal resort towns in the East and Southeast. This helps you avoid the summer traffic when visiting any of the fun destinations within striking distance. Whether you want to go to one of the pristine beaches in Ogunquit, Wells, or Kennebunk, or try the exciting restaurant scene just over the border in Portsmouth, NH. Spend a day browsing the wide assortment of boutique businesses in the Old Port of Portland, or find any number of other ways to spend your days away from the loud and bustling Outside world in our Local's Guide to Maine.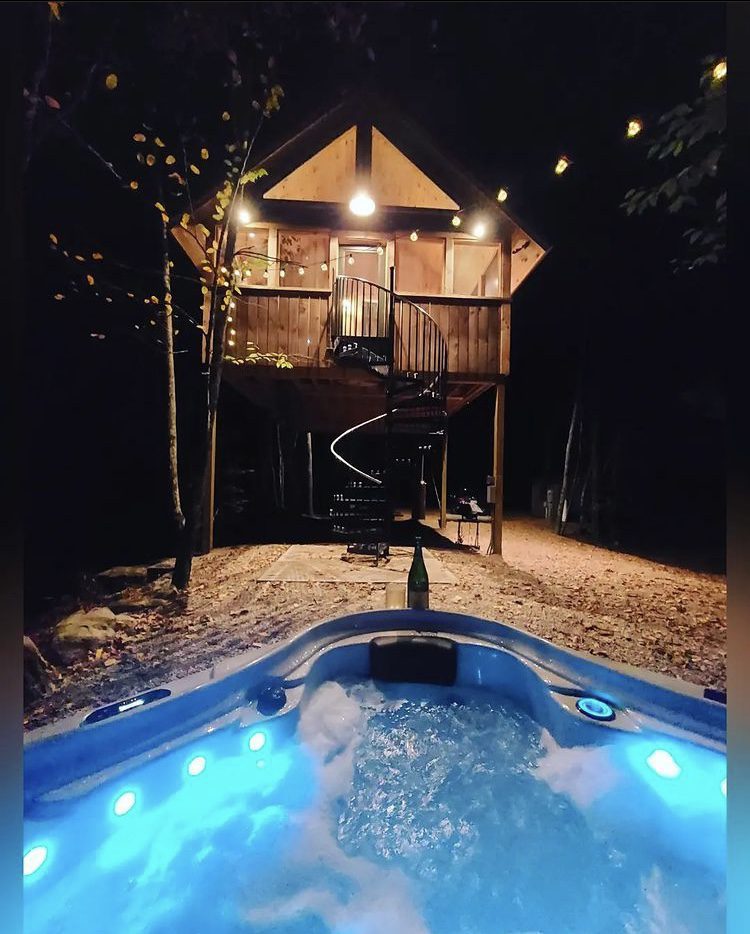 We're not the only ones who think Purposely Lost is something special.  Check out this featured article in Maine Home by Downeast Magazine. 
We kindly ask that you do not cut down any trees on the property. Please use the firewood provided.
Please be cautious of our countertops when cooking and do not cut directly on top of them- cutting boards are provided in our fully stocked kitchen
To protect the floors and make for a cleaner stay, please do not wear shoes in the treehouse!
Please be sure to clean the grill after each use. A grill brush is provided!
After using the canoe be sure to store it upside down and secure it with the lock!
What our guests are saying…
We had a wonderful stay at Purposely Lost!  We stayed two nights at the new Fern Hollow Hobbit House.  The house itself is beautiful and so cozy.  The outdoor space is absolutely perfect!  The large front patio with the firepit and private hot tub, overlooking the woods and lake was stunning!  The location is great, close enough to town that you can just pop to the store and back, but far enough out that it feels extremely secluded and private.  You can see two of the treehouses from the Hobbit House, but there's plenty of space and trees in between to not hinder your privacy at all.  We had the best weekend getaway and cannot wait to come back again!  Highly recommend!
- Marybeth S.
My family and I (2 adults and 2 kids) stayed 2 nights in the Canopy Treehouse last month and had a lovely time. The property was in a great location, but hidden just outside. You felt like you were in your own little world. We had tons to do between the treehouse, the hot tub and the pond.
Everything was clean and well maintained. And, I have an eye on that hobbit hole in the future. Thoughtful amenities
- Jason M.
I stayed for 3 days and nights in the Canopy Treehouse. It was awesome! It was very clean and had all the amenities you would need. It was very private, no one around. Great place for relaxation. The pond was gorgeous. I went solo and felt very safe. Management was a phone call away if needed and very responsive. Must go there to experience it. It was a 2 bedroom treehouse but had plenty of space. Did not feel cramped at all. I highly recommend this tree house.  I plan on returning in the future.
- Debbie P.